September 5
During our coverage of Cheryl Cole's 'Fight For This Love' we failed to register suitable dis­ap­proval regarding the woeful verse lyrics and apologise to all readers for the distress they may have suffered as a con­sequence of this oversight.

September 9
On Wednesday September 9 we featured Mr Hudson's 'White Lies' as a Song Of The Day. We apo­lo­gised as soon as we noticed our error but, while we accept that this song may be pleasing to the ears of many Popjustice listeners, we would like to take this oppor­tun­ity to apologise again for featuring what is, in essence, a load of old boring rubbish.

September 11
On September 11, in an article entitled 'Katy Brand 0, Lady Gaga 1', we were slightly too ambiguous in our assess­ment of Katy Brand's unique (non-unique) brand of humour (not humour). To be clear on this, we are not par­tic­u­larly keen and didn't really feel her Lady Gaga 'pastiche' was very good.

September 21
On Popjustice.com and via Twitter we may, through the casual use easy-to-mis­in­ter­pret phrases like '#teamkeisha', have given the impres­sion that we were 'Team Keisha'. For the sake of clarity, and par­tic­u­larly in light of certain quite aston­ish­ing things we have heard about the last few months in the world of the Sugababes, we would like to state clearly that while we still believe Heidi, Amelle and Jade should go out under a new band name, we are firmly Team Heidi & Amelle.
September 24
In our article on Ladyhawke's 'creative part­ner­ship' with Becks we spec­u­lated that the flow of cash could have gone in either direction. Following an eyebrow-raising email we have received from A Close Pal of one party we apologise for sug­gest­ing that this deal rep­res­en­ted anything other than a massive pile of cash for Ladyhawke.
September 25
In our September 25 article on solutions to file sharing, we neglected to mention that the best deterrent of all would be to make music totally terrible and therefore unat­tract­ive to down­load­ers, and we neglected to mention that this brave initative had been cleverly trialed by RCA with artists such as Scouting For Girls, The Script and Will & The People. We apologise to RCA for over­look­ing their novel, proactive approach to the file sharing problem.
September 28
On September 28 in our coverage of songstrel Jessie J we neglected to mention that the voice-of-an-angel warbler in question had toured with Girls Aloud. Apols to all concerned.
October 1
On October 1 we totally forgot to do a Popjustice Song Of The Day so Julian Casablancas ended up being Song Of The Day two days in a row, which in a way seems fair as it's a good song but in another way seems unfair on the Popjustice read­er­ship and we apologise for all and any inconvenience.
October 1
On October 1 we falsely claimed that Miley Cyrus' 'Party In The USA' sleeve was rubbish and featured Miley Cyrus cavorting near a wind machine or spotlight. We now accept that this image was not in fact the sleeve for 'Party In The USA' and that the two correct artworks are in fact, for the USA and Britain, respect­ively, these: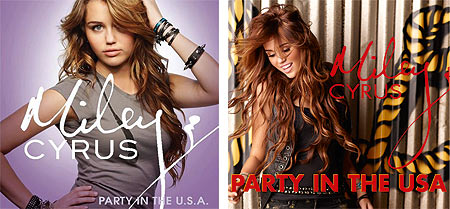 With regards to our original point about the disused wind manchine you will note that while not visible in the UK sleeve the wind machine has, in fact, been turned on. We apologise to — in this strict order: 1. Popjustice readers for any distress caused, 2. The people who designed the actual UK sleeve which is, in fact, quite good and iron­ic­ally unropey for a sleeve featuring rope (but the US one is typically bad — the world would be a far better place if The Americans were kept well away from any artwork decisions), 3. Miley Cyrus.
October 2
On October 2 in a roundup of Apols for September 2009 we included two Apols for October 1 2009. We now accept that Apols for October 2009 should not have been in the September 2009 Apols roundup and apologise for any distress caused by these actions.