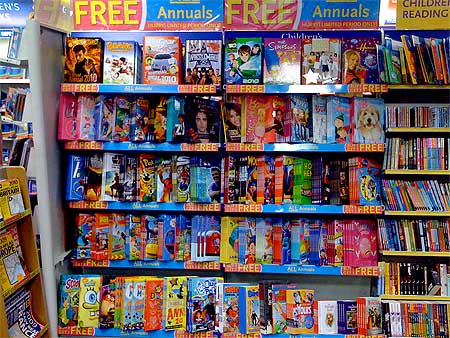 The hard-backed annual is a stocking filler that never goes out of fashion.
Is this a British thing? Not sure — if it is, and if you're reading this overseas, the idea of an annual is that it's a look back over the year just gone and a look ahead to the year just around the corner, usually given as a Christmas present. Bands and popstars would have their own annuals. 'The Kylie Annual', for example. The 'look back over the year' part is always a little bit cobbled together as the book will invari­ably have gone to press during the summer, hence a display of 2010 annuals like the one above being in bookseller/stationery merchant WH Smith right now. There are some classics of the genre like Pet Shop Boys' 'Annually' but most annuals are just an excuse to chuck together a load of press shots, shoddy horo­scopes, made up inter­views and a word­search then charge seven quid for the lot. A bit of a ripoff really, so perfect for the pop industry.
It's inter­est­ing that even at a point when 'print is dead' there's still a market for annuals, those special interest snapshots to be obsessed over by bored kids on long Boxing Day car journeys to see the grand­par­ents, with cross­words and quizzes to be completed in a quiet corner when mum and dad 'just need a bit of quiet time'. The WH Smith display pictured above seems like quite a broad selection — let's see which pop annuals are available this year.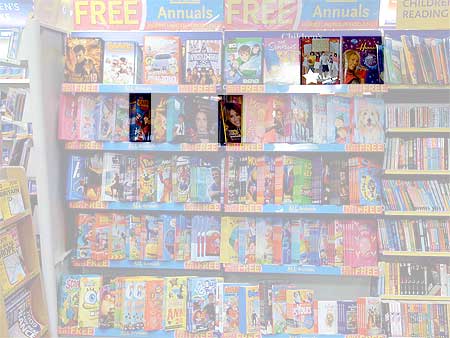 So that's High School Musical, Hannah Montana, Miley Cyrus and Camp Rock.
WELL DONE THE BRITISH MUSIC INDUSTRY.