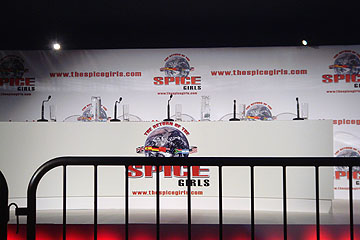 "I was lying in bed one morning and I phoned Emma and said 'I want to be a Spice Girl again.'"
Thank you Geri.
We've just got back from a press con­fer­ence in the middle of nowhere. The Spice Girls announced they were reforming but, con­sid­er­ing it has been the worst kept secret in the history of music, you were probably aware of all this.
Here are some of the things that were said.
"It was EMI's decision to release the Greatest Hits album," said Melanie C.
"I wanted to be a Spice Girl again," said Emma.
"We're looking forward to doing the ballads," said Melanie B.
"We'll celebrate the past and that'll be it," said Victoria.
"I've got a gun under the table," said Geri Halliwell.
They are doing a lot of dates all over the world in December and January and they couldn't repeat it often enough that this was a goodbye to the fans and not a comeback. Melanie B does not want it to be compared to the Take That reunion but Geri did admit there is a good ballad on their new album.
They went slightly off topic when someone asked them about recording some new songs. "We've got so many great songs already," said Mel C. Nobody stopped to ask how many of them still sounded good in 2007 but, we suppose, we'll be finding out soon enough…