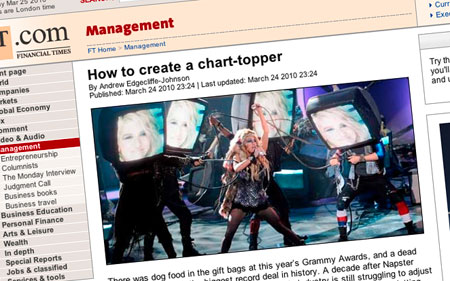 There's an inter­est­ing article about Ke$ha in the Financial Times today (via ROTD).
It iden­ti­fies Ke$ha and Lady Gaga as the two acts who are "vying to be the heirs to a pop throne not yet vacated by Madonna, while firing up digital com­munit­ies of fans in a way that was impossible 20 years ago".
Barry Weiss, who signed Ke$ha, has this to say: "Ke$ha's going to be this year's Halloween dress-up [costume]. Last year it was Gaga. Ten years ago it was Britney [Spears]. That's how big this feels."
ABSOLUTE SHIT. Lady Gaga is going to be this year's Halloween costume. In fact about 20 different types of Lady Gaga will be this year's Halloween costume. The only possible way 'Ke$ha' will be mistaken for being this year's Halloween costume is if one takes into account every teenage girl who can't handle her drink, turns up at a house party already pissed on brightly coloured booze, shits in the bath, is sick down the host and requires picking up by her dad at 8:45pm.
Plenty of Weiss' other comments about the pop market make more sense, however, and this part is par­tic­u­larly interesting:
Mr Weiss is already cal­cu­lat­ing how his new digital phe­nomenon will compare to Spears, a star from the cassette era. "Britney went on to sell 20m [copies of her first album]. We're not going to do that . . . But we're going to do 5m in America alone and we'll probably do 8m-10m worldwide."
A decade ago Jive made $60m-$75m from Spears's first album, he estimates. "On Ke$ha hopefully we'll make $15m-$20m."