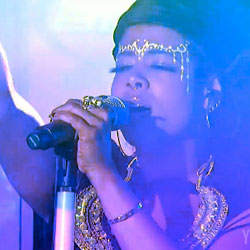 There is a programme ('show') on American tele­vi­sion hosted by a man called Jimmy Kimmel. It is called The Jimmy Kimmel Show. That is fact and cannot be disputed.
There is a lady in America called Kelis. She has recorded a song called 'Acapella'. It is pop music of a very high standard, as has been widely doc­u­mented here and elsewhere.
Last night 'Kelis' performed the above-mentioned 'Acapella' song (not acapella) on Jimmy Kimmel's 'The Jimmy Kimmel Show' show.
SHE HAD A THING ON HER HEAD.
THERE WERE FLASHING LIGHTS.
SHE HAD WILL.I.AM ON THE 'DECKS': PRETENDING.TO.DJ.HE.WAS.
THIS IS A VIDEO OF IT HAPPENING.
httpv://www.youtube.com/watch?v=erm_MiD-70k

It will be inter­est­ing to see how this whole 'new Kelis album' business pans out con­sid­er­ing Kelis has his­tor­ic­ally sold somewhere in the region of Fuck All Records. Hopefully she will be a quite large global song­stress by the time the whole album 'campaign' has ground to a halt 15 months from now.