Last summer we featured some clips of Aiden Grimshaw per­form­ing a load of crap covers at some summer day out kind of thing at Market Rasen Racecourse.
We were not exactly positive about what YouTube was showing us that day.
It felt quite wrong that Aiden was per­form­ing at that sort of event. His character (or cari­ca­ture, as is the way with these things) during The X Factor didn't really suggest the sort of guy who'd turn up at a family day out banging out cover versions.
Aiden didn't really fit in with The X Factor's Saturday night clap-along smiley showbiz glit­ter­storm — in fact, he looked like he might kill someone. He seemed (and not just because of some aggress­ive styling by the time the live shows came around) as if he would have been best suited a kind of 'one-man Hurts' sort of thing, not acoustic Red Hot Chili Peppers covers.
Anyway our pissy article prompted a pissy email from someone at Aiden's man­age­ment. We think it just said something like "THANKS". But what were we supposed to think? That these videos depicted someone on the verge of greatness? They didn't. It looked like everyone had given up.
Then things started to change. By last Autumn we'd heard quite a lot about the fact that despite behaving like a washed up X Factor casualty, Aiden had been signed on the quiet. His music, we kept being told by people who usually know about these things, was sounding pretty good.
Last month, music even­tu­ally started being sent out and today the first single, 'Is This Love', premiered online. It's a brilliant modern pop song.
But now we ask again: WHAT ARE WE SUPPOSED TO THINK?
Let's have a look at how the Aiden launch panned out.
1. First sight
As this is an ex‑X Factor con­test­ant the exclusive would go to maybe Radio 1's breakfast show, or perhaps to Capital, right? WRONG. Aiden, whose post‑X Factor online fanbase is one of the web's most excitable, goes online first. So he'll go to X Factor-friendly sites like The Sun online, or Digital Spy, right? WRONG.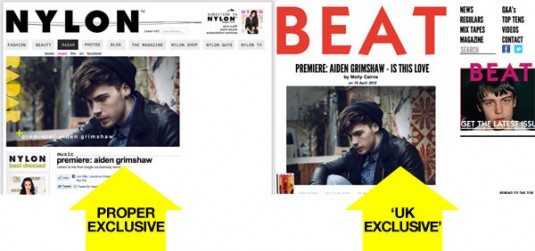 What do we learn from the choice of Nylon and Beat, both excellent pub­lic­a­tions online and offline but not exactly standard X Factor graduate material?
Well that if these ultra-choosy gate­keep­ers of popular culture give Aiden the seal of approval, he must be good.
He is sort of credible but not in a boring way, he is a little bit hipster-friendly, he is stylish, he is 'not your average popstar'. He is as different from, say, his labelmate Olly Murs, as it is possible to be. He's just someone who found himself on The X Factor one day and went along for the ride. His ambitions were com­pletely different from everyone else's on that show. DON'T WORRY IT'S FINE TO LIKE HIM.
2. The logo
You know in Se7en when they find the mentalist's apartment and there are all these books full of unnerv­ingly neat handwriting?
Handwriting = personal, auto­bi­o­graph­ical music.
3. The press shot
Only one image has been sent out for this first day's 'activity', and it's this one. Obviously, it's full of significance.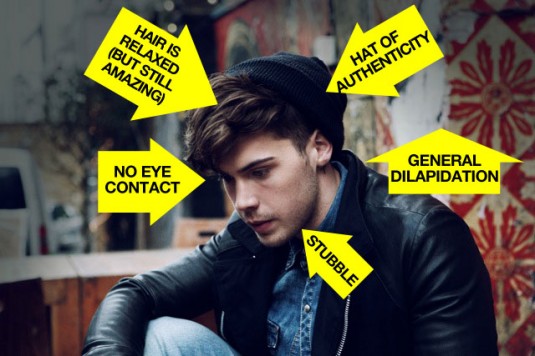 But most import­antly: no smile. Mind you, what has Aiden got to smile about, when he is so mis­un­der­stood by the world?
His is a life detached from the trivial pleasures society has been brain­washed into thinking it wants. He is alone. Alone with his thoughts. Maybe, he wonders to himself, he is a vampire. He feels like one some days.
But he is not com­pletely alone, is he? Because actually, he is a bit like you.
The more you think about Aiden Grimshaw the more you think about the poetry you wrote when you were 14, and the awkward but handsome boy you wrote it for. You realise that somehow you and Aiden have a con­nec­tion. Nobody else matters. They can have their TOWIE and their LMFAO. Such fancies are irrelevant.
AIDEN GRIMSHAW IS RELEVANT.
4. The artwork
Call the Instagram police.
It is inter­est­ing, isn't it, that the flare being held in this pho­to­graph is right on the halfway point between the urban and the rural.
The flare is Aiden's cre­ativ­ity and the flare is the flash of inspir­a­tion. The flash of anger. The flash of I QUITE WANT TO DISCUSS MY FEELINGS YOU KNOW.
5. The music
Well the music, obviously, is what it's all about. And this single is pretty extraordinary.
Put it all together and you've got…
…a pos­i­tion­ing exercise that makes the first five months of the Cher Lloyd campaign look like a happy accident, but when you've got a popstar (BECAUSE THAT IS WHAT HE OBVIOUSLY IS) this great with a pop single (BECAUSE THAT IS WHAT THE SONG OBVIOUSLY IS) this well executed, you're not going to just leave it all to chance, are you?