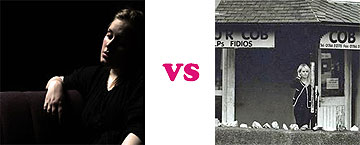 These brilliant, made-for-Jools singer song­writers with one name are both hotly tipped by people whose tips for 2008 are based entirely on which press releases they've received for records coming out in the next few months.
But who's best?

ADELE

DUFFY

One word name
Adele
Duffy
Best song
'Chasing Pavements'
'Warwick Avenue'
What they say
"As soon as I got a micro­phone in my hand, when I was about 14, I realised I wanted to do this."
"I don't think I can remember life without singing so I don't know how I started."
Influences
Jill Scott, Etta James, Billy Bragg, Peggy Lee, Jeff Buckley and The Cure.
Patsy Cline: amazing.
Can you dance to her music?
No
No
Boringness
22%
68%
Welshness
0%
100%
Ability to win pub brawl
81%
12%
Vocal ability
A+
B-
Hair
C-
C+
Capacity for booze
89%
56%
Tendency towards black and white photography
61%
98%
Tendency towards carefully lit photography
91%
42%
Are they going to release any amazing poppers o'clock remixes
of
their songs?
Probably not.
Highly unlikely.
Are they better than Foals?
Maybe
No
Chances of going totally off the
rails and pissing everything up
the wall
67%
1%
Will their second album be better than their first?
Yes
No
Would they have been signed if
Amy Winehouse hadn't broken through?
Yes, but would have been a harder sell
Yes, artists like this are signed about 80 times a year
Likelihood of being mean about Girls Aloud
50%
22%
Likelihood of saying anything inter­est­ing at all in entire album campaign
100%
19%
Largely irrel­ev­ant elephants in
room not expli­citly acknowledged
by media coverage
Not slim
Fit
Chance of million-selling greatest hits in six years
49%
12%
Do they own a dog?
Unknown
Unknown

And the winner is…
Who cares — when's the bloody Ashlee Simpson single being released in the UK?

httpv://www.youtube.com/watch?v=K5UoVKV1VsY