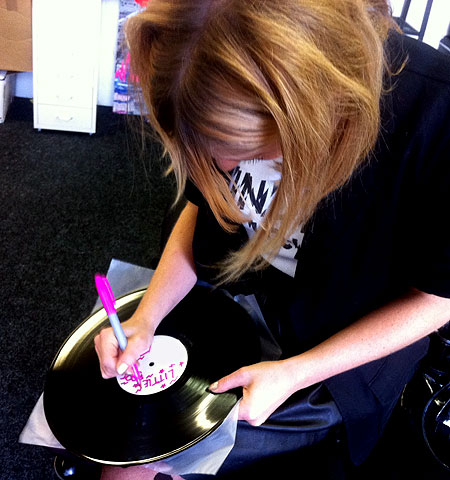 Songstress and baking superstar Little Boots popped into Popjustice HQ earlier today to deliver a cake she'd made. We'll be honest with you readers, it was quite delicious.
Oh yes, and she dropped off (and signed — amazing) a white label of some of her new music.
We cannot defin­it­ively confirm what is on the 12" because we don't have a record player in the office with which to check, but Victoria did with very little per­sua­sion play a few tunes off her laptop.
And here is the news.
• She wasn't very good at telling us what various other songs were called, and we weren't very good at asking, but a couple were done with The Knocks and were great, and one of those was about wearing head­phones at a disco. 'Motorway', the song she debuted in the Popjustice Turntable.fm room a few months ago, is still part of the whole 'next Little Boots album' thing, but she reckons some of the less banging tunes she found herself writing over the last couple of years will probably be put on a shelf somewhere.
• A mixtape thing we haven't heard is called 'Shake Until Your Heart Breaks' and will appear online sooner than you might think.
• One of the songs she played us, which includes the line "shake until your heart breaks" in its chorus, is six minutes and twenty seconds long. The 'business bit' after all the faffing starts at 1:04 and ends at about 5:45. Discussing the song, which is produced by The Producer James Ford, Victoria bandied around phrases like "all analogue", "sweeps of white noise", "two break­downs", "a big drop" and "a really good epic bit". It reminded us a lot of everything we first loved about 'Stuck On Repeat'. "I wanted to get back to where I started with dance music," mused the non-giant pop phe­nomenon as we stuffed our faces on cake. "I wanted to get back to what I do best." Now we're not saying we weren't impressed by Victoria's talent for standing around near tramps dancing with shopping trolleys, but we're inclined to agree that she's on more solid ground with this whole 'pulsing floaty banging disco monster' sort of 'vibe'.
• Victoria says she has recently been listening to a lot of 'Confessions On A Dance Floor', an album whose amaz­ing­ness was sadly tainted by the fact that everyone knows 'dance­floor' is one word. But still. You get the idea. You can hear a bit of that sort of thing in some of the new tunes.
• In the coming months there will be a Little Boots world DJ tour and from what we can tell this is all a way of telling the world "BRACE YOURSELVES — I WILL BE ALL UP IN YOUR GRILL FOR QUITE A LOT OF 2012".
• "Don't call it a comeback!" Hesko trilled as she exited the office, making sure she took her cake tin with her. Okay, then, we'll call it a re-boot. Whatever it is, it sounded bloody brilliant and made us really quite excited about the next Little Boots album. As you might expect we will be dusting off a gramo­phone, in order to inspect the 12" properly, sharpish.
That was the news. We would suggest that you keep your eye on Little Boots' Twitter for further developments.