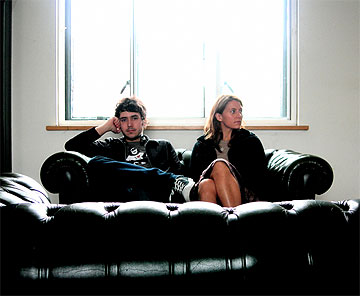 When we mentioned Blondfire in passing yesterday we realised that, despite the fact that we became scarily obsessed with their 'My Someday' album earlier this year, we never wrote about them here on Popjustice. So here are the facts.
THE FACTS
» They are amazing.
» They are the Brazilian/American brother/sister duo of Bruce
and Erica Driscoll. They began under the name Astaire, but due to legal
threats from the Fred Astaire estate they were forced to change their
name. The siblings write/record/produce all their own songs and make a
refresh­ing, UK influ­enced sound that is at once catchy, original, and
undeni­ably their own. Despite their polished, pop hooks, the duo is the
true defin­i­tion of Indie. They've literally done nearly everything
independently.
» We copied and pasted the bit above from their MySpace, but we agree with all the main points and heartily endorse this event or product.
» Songs like 'Pretty Young Thing', 'L‑L-Love' and 'All In My Mind' are all tunes of the very highest order.
» You can listen to tracks on their MySpace but if you like The Cardigans and/or Dragonette you will love them and can just go straight to iTunes to buy the album for eight quid.
» We know that these days people are always banging on about 'the new model' for the music industry and how it is 'the future for new artists' etc etc but browsing through Blondfire's music, accolades, packaging and general presence on Planet Earth it's heart­en­ing to see that it is possible for pop people to pull it all off without the results being absolute shit.
» Two thumbs up to Blondfire, etc.