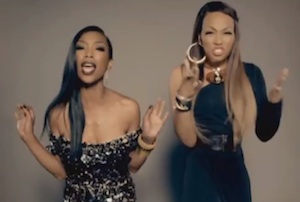 THE WAIT IS FINALLY OVER: 14 years later, Brandy and Monica have released a new video with 'It All Belongs To Me'. (That Grape Juice) We like the bits where Monica cuts the guy's tie off and when his (SPOILER ALERT) car blows up at the end.

Bruno Mars puts margarine, berries, and "barbecue potato Popchips" in his bouffant to make sure it stays in perfect shape. (Contactmusic)

The Wanted's debut album is set for release in the US on April 24, and it will probably be a mixture of cuts from their two albums plus some addi­tional extras. (Billboard) So it should have at least four good songs on it.

'Cowboy Casanova' hitmaker Carrie Underwood has released the artwork for her (badly-titled) new album 'Blown Away'. (Ace Showbiz)

Demi Lovato has 'revealed' (although we probably could have guessed) that she didn't par­tic­u­larly enjoy seeing in New Year 2011 when she was stuck in rehab. (MTV)

Madonna has refused the mighty Susan Boyle per­mis­sion to cover 'You'll See' as part of an upcoming show about her life. (TVNZ) FUCKING HELL MADONNA YOU COW THAT WOULD HAVE BEEN AMAZING.

Tulisa felt highly embar­rassed at airport security yesterday when a 'Rampant Rabbit' started vibrating in her suitcase, noting that "I only bought it as a present for a mate, but the joke ended up on me". (The Sun)

Prince Harry would appar­ently like 'Thinking Of You' chanteuse Katy Perry to perform at his Nan's party this summer. (Capital FM)

And finally, Soulful Artiste Rebecca Ferguson has been express­ing her admir­a­tion for David Guetta, stating that "I would love to do vocals on a dance tune so maybe I should give David a call soon". (Daily Star)
THAT WAS some of THE NEWS.