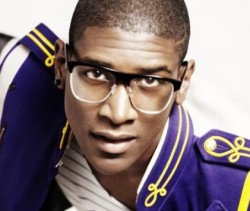 After listening to his debut album, Labrinth felt "shit-scared and excited all at the same time", but is pretty confident that he's "delivered". (Daily Star)

'Apparently' Lady Gaga will follow in Michael Jackson's footsteps by appearing in the next Men In Black movie. (Contactmusic) If she doesn't come out of a giant egg, we'll be dis­ap­poin­ted.

Footballer Ashley Cole offered £5000 for a date with Ellie Goulding at a charity auction last night, but was outbid by some rich busi­ness­man (is that what they're calling Skrillex these days etc etc). (Actually that's a fair descrip­tion isn't it.) (The Sun) Meanwhile, John Terry spent £16 000 (!) to secure lunch with JLS. You'd at least expect them to throw in a handjob from JB for that price. A 'handJB', if you will. This is surely what all popstar/winner 'dates' should end?

If JoJo swallowed Britney Spears' 'Blackout' album and regur­git­ated it into one song, her extraordin­ary song 'Sexy To Me' is what it would sound like. (YouTube) Sadly it is not a rumpoid remake of Bryian McFadden's 'Real To Me', but imagine if it were.

Dev has tweeted a picture of herself with 'Experiencia Religiosa' hitmaker Enrique Iglesias, but neither of them look par­tic­u­lar happy to be there. (Twitter)

Wanted tour 'banter' involves locking their manager in the toilet, sticking chocolate in his ear and force-feeding him spicy sweets, which appar­ently made Jay throw up when he tried one. (Daily Record) Nice one lads!

In 'Australian chart news', Adele's '21' has equalled 'I Can't Break It To My Heart' chanteuse Delta Goodrem's 'Innocent Eyes' for the most weeks at Number One. (Sydney Herald) Meanwhile in the UK, '21' has now sold more copies than Michael Jackson's 'Bad' which you can read all about here.

THE WAIT IS NEARLY OVER: Justin Bieber is expected to announce some "big news" regarding his new album campaign this week. (Capital FM)

And finally, in 'good deed of the day' news, Taylor Swift has invited Kevin McGuire — a fan battling with leukaemia — to be her date at the Academy Of Country Music Awards in April, after Kevin's sister set up a Facebook group inviting Taylor to be his prom date. (Billboard) Call us sen­ti­mental, but here's hoping Kevin's evening ends with a Swift handJB.
THAT WAS some of THE NEWS.