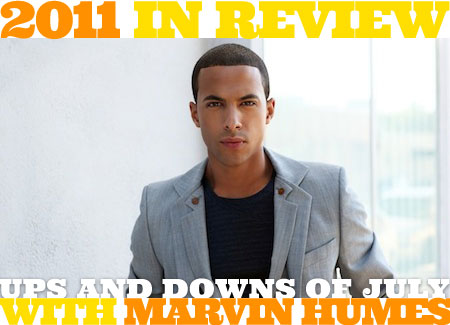 JLS enjoyed a good 2‑oh-oh-oh‑0–11 but it is the month of July we wish to discuss with ser­i­ous­face pioneer Marvin Humes.
At the beginning of the month, per­man­ently frowning tennis player Andy Murray lost to Rafael Nadal in the semi-finals of Wimbledon for the second year in a row.
Do you think his problem is physical or mental?
I just think Nadal has got that slight edge on Murray at the moment. I think Murray is an incred­ible tennis player and I have no doubt that one day he will win Wimbledon. It's like all the tennis greats of my time; Sampras started losing to Federer, Federer even­tu­ally started losing to Nadal and Djokovic and so they'll start losing to Murray. I think he will win a Grand Slam and def­in­itely Wimbledon.
Do we Brits have the will to win or are we a bit too 'no, that's fine, it's your turn, carry on'?
I don't question his ambition or determ­in­a­tion one bit. You can see from his determ­in­a­tion on the court that he abso­lutely wants to win a Grand Slam and I believe that he will do.
Fox News announced that Barack Obama had been assas­sin­ated via their Twitter account, which had been hacked.
Do you think the pro­lif­er­a­tion of social media and spe­cific­ally Twitter means that such hoaxes are reported as fact too quickly?
Maybe but I think the great thing about Twitter is that you can shut things down extremely quickly. Especially for us, if there's a rumour in the paper and you just wanted to shut it down and say 'that's a load of rubbish' then Twitter's a great platform for that.
A British Lottery winner scooped the largest ever prize in Europe by winning the EuroMillions jackpot of £161,653,000.
What would you do with that kind of money?
I'd give away at least £61 million to friends, family and charity. I always think about what if me or one of the boys won the Lottery and I think we'd just fund everything ourselves. We wouldn't need to do anything with a label because we'd have the finances to do it ourselves and we could do what ever we wanted to do.
Obviously you've worked with RedOne after bidding for him in an auction but who else would you ideally want to work with if you had that amount of money?
Timbaland would be brilliant to work with I think.
An unfin­ished manu­script by Jane Austen sold at auction for nearly a million.
Are you a big reader of literature?
(Laughs) No, really not. JB is the reader of the group. I used to read a lot at school, but I'd rather just watch the film on my iPad or something.
Also in July, Japan won the Women's World Cup.
Do you think women should be allowed to play football?
Of course! Absolutely. There needs to be fairer pay as well. It's embar­rass­ing the dif­fer­ence between men's and women's pay, espe­cially in football. It's ridiculous.
Amy Winehouse passed away.
What will be your memory of her?
I met her about eight years ago when she was promoting her 'Frank' album, which for me is her best album. I remember having a good con­ver­sa­tion with her. I was in a different band and she was saying 'look, just keep writing' and she signed me an autograph in her 'Frank' album sleeve saying "keep writing, lots of love, Amy" and so that will always be my memory. She looked really well and she was such a lovely girl.
The twenty-fifth and final Harry Potter film was released in July.
Were you a fan of the schoolboy wizard?
Do you know what, I only saw the first two but I've since bought all of them on Blu-Ray a couple of weeks ago and over Christmas we've got a long break and I want to do a Harry Potter marathon and do them all back to back.
And finally, the News of the World shut in July due to extreme cuntery.
Do you miss the paper?
I do actually. I miss waking up on a Sunday and going to buy it. It's been a newspaper that I've read since I was a kid, from the showbiz to the sport. It always had the juiciest gossip of the week. Hopefully there will be some sort of similar newspaper coming out next year.
What would people find out about Marvin if they tapped your phone messages?
Really not exciting to be honest. Let me have a look at my voicemail… (Fiddles with phone for a bit) My last three voice­mails are… Well one is from our press girl saying I have an interview, one is from my friend who is a song­writer saying he's on the way to the studio, and one's from an estate agent about a property I enquired about. Really boring, not exciting stuff.
But pre­sum­ably with the last one a showbiz journ­al­ist could end up being a story along the lines of 'Marvin's moving in with Rochelle because I've found out he's looking at a house with X number of rooms in it'.
(Laughs) Exactly, they def­in­itely could.
*


JANUARY with Little Boots: CLICK HERE


FEBRUARY with Eric Saade: CLICK HERE


MARCH with Mark Feehily: CLICK HERE


APRIL with Cher Lloyd: CLICK HERE


MAY with CocknBullKid: CLICK HERE


JUNE with Jordan Rizzlekick: CLICK HERE


JULY with Marvin Humes: CLICK HERE


AUGUST with Will Young: CLICK HERE


SEPTEMBER with Yasmin: CLICK HERE


OCTOBER with Joe McElderry: CLICK HERE


NOVEMBER with Patrick Wolf: CLICK HERE


DECEMBER with Aino Icona Pop: CLICK HERE