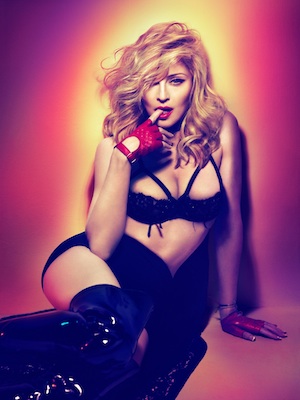 Here is a 'rundown' of some of the things that happened during the Madonna Twitter Q&A last night, with high­lights including her inviting Justin Bieber to join her on stage "when we are in the same city", and revealing that one of the best presents she ever got was a horse. (Hitfix)

'Castle Made Of Sand' hitmaker Pitbull has unleashed his Men In Black III theme song 'Back In Time'. (Ace Showbiz) It's not bad, but it's not very good either.

Meanwhile, 'friend of Pitbull' Jennifer Lopez has gen­er­ously released a 19-second 'snippet' of their new col­lab­or­a­tion 'Dance Again', which sounds quite promising. (Gossip Center) However it stops right before Pitbull does his 'thing' so the rest might be utter horse shit.

You'll all be ecstatic to hear that Maroon 5 have announced a new album called 'Overexposed', which 'according' to their guitarist James Valentine will be their "poppiest" album yet. (BigPond News)

In 'token gesture' news, Katy Perry has asked her fans which songs should feature on her upcoming 3D movie extra­vag­anza. (Contactmusic)

Meanwhile, Adam Lambert recently sang a couple of lines of 'Part Of Me' on the radio, which sounded quite nice. (Gather Celebs)

If you've ever dreamt of being part of Jessie J's security team now is your chance, as she is looking to increase it — PR RUBBISH ALERT — following her "increased exposure" on The Voice. (Daily Star)

Olly Murs has confirmed that he def­in­itely will be appearing on Deal Or No Deal again. (Twitter) Here's his 'memorable' first appear­ance if you've not seen it. He won a tenner.

And finally, to celebrate Mariah Carey's 42nd Birthday, Billboard have put a 'fact sheet' together which lists all her US chart achieve­ments, and you can read it here. Or you could watch some footage of her exer­cising with heels on if you'd rather.
THAT WAS some of THE NEWS.