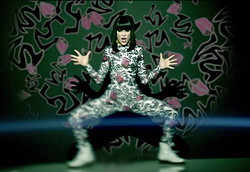 Jessie J's 'Domino' – which has so far peaked at the not-quite-so-dizzy-heights of 54 in the UK charts – now has a video in which Jessie 'sports' a lot of her "trademark body suits" ("onesies"). (Daily Mail) It's all quite vibrant and colourful, which might be a bit too much if you're nursing a post-Boxing Day hangover.

Scissor Sisters' new single is called 'Shady Love' and features demure rapper Azealia Banks. (Facebook) It will be played by Annie Mac between 10pm and 1am on Radio One next Monday, so keep a three-hour window free in your schedule.

Certain parts of Rihanna's new video for 'You Da One' may have been 'inspired' ('stolen') from the work of pho­to­grapher Sølve Sundsbø. (That Grape Juice)

A Britney Spears song called 'Strangest Love' – appar­ently recorded around 2003 — has recently leaked. (Ace Showbiz) The article also features an acoustic version of 'Femme Fatale' bonus track 'Don't Keep Me Waiting' if that's your 'thing'. (It's bloody rubbish.)

If you missed Lady Gaga's festive gift 'Stuck On Fuckin' You', you can listen to it here. (Billboard) (That's bloody rubbish as well.)

Nicole Scherzinger says she is "an artist first, not a judge first", sug­gest­ing that her entirely suc­cess­ful stint on US X Factor may not be repeated next year. (Daily Mirror) It is just as well, we suppose, that she can fall back on her suc­cess­ful recording career.

'Can't B Good' hitmaker Janet Jackson has been named Grinch Of The Year by PETA. (Jam! Showbiz)

Music sales in the US are up a solid 1% from 2010, and it's all thanks to Adele, Lady Gaga and Michael Bublé. (Reuters)

And finally, Jennifer Hudson has 'revealed' in her book I Got This: How I Changed My Ways And Lost What Weighed Me Down that she turned down the lead role in Precious: Based On The Novel Push By Sapphire as she didn't want to put on weight. (Us Magazine) So inspirational.
THAT WAS some of THE NEWS.