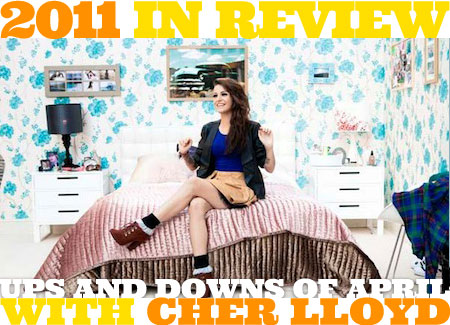 Cher Lloyd's debut single 'Swagger Jagger' was released in July this year but that cultural milestone was still three months away in the month we have asked the singer to consider for our review of the year. We mean April 'BTW'.
First in April: a happy day! Prince William marries Kate Middleton in Westminster Abbey.
What are your thoughts on the Royal Family?
My thought on the Royal Family? They're cute.
Who is your favourite member?
(Immediately) Harry.
Because he's a bad boy?
Yeah, because he parties a lot. I think that's cool.
Did you watch the wedding?
I did. I get embar­rassed saying that I did. I said that I wasn't going to watch it and then I ended up watching it.
Also in April a 'study' in Taiwan revealed that men and women who shop on a daily basis live longer.
Do you enjoy shopping?
What? It says that you live longer if you shop more? Right okay. Yeah, but then you'll spend all your money, you'll be in debt and you won't have any money for food. It's a bit of a messed up situation.
So you're saying you disagree with the findings of this study because if you shop more you'll be so poor that you won't have any food and then you'll die.
Exactly. All you'll have is your houses and designer handbags.
And you can't eat those. Well, you could…
You could always sell them on eBay.
You wouldn't even have the energy to log in though.
True, you'd be too tired.
What's shopping like for your these days?
I hate it. I used to love it but now I hate it. I don't have the energy to do it. I love clothes though.

Surely you just get sent free stuff now?
Yeah, now and again.
Tim Anderson won MasterChef 2011 and was commended for his "jellied ponzu", whatever that is.
What's your signature dish?
Mashed potato, beans and sausage. You know, I think that would win MasterChef.
We're not fans of mashed potato.
Why? Do you have lumps in yours? That's probably why.
Anne Robinson left The Weakest Link, prompting the BBC to end the show.
Do you think you could have handled Anne Robinson?
Oh yeah def­in­itely, I would have beat her.

She was pretty scathing with her put-downs.
She's easy, she's a pushover. I reckon it's all very rehearsed.
What's your favourite TV quiz?
Family Fortunes I think. I quite like that one. I think Vernon Kay's really good on it.
Actress Penelope Cruz became the first Spanish actress to receive a star on the Hollywood Walk of Fame, while a Michael Jackson statue was erected in Fulham.
How would you like to be remembered?
A Michael Jackson statue is in Fulham?
At the football stadium, because the team is owned by Mohamed Al-Fayed and he was friends with Michael Jackson.
Oh yeah.
So would you like a statue erected in your honour?
Erm, I'd probably like me picture in Nando's. With a High Five card in the picture frame so no one can get it. I do want a High Five card before I die.
What's your favourite Nando's meal?
Peri chips. A chicken wrap with cheese with nothing else in it and Halloumi cheese on the side.
And what drink?
Coke.
Finally in April, Disneyland Paris closed its Thunder Mountain ride after a piece of scenery fell on one of the carriages.
Who is your favourite Disney character and why?
That's a really hard one.
What about The Little Mermaid?
No, I never enjoyed that one, it was rubbish.
Toy Story?
That's a bit new, isn't it?
Snow White?
(Unimpressed with Snow White sug­ges­tion) Cinderella because people treated her bad and then she did something and now she's happy.
We asked a friend who is from Malvern if she had a question for you and she said to ask you your favourite walk on the Malvern Hills. Hers is British Camp.
My favourite walk on the Malvern Hills is the walk out of it. I joke. I went on it once and they sent out police helicopters.
What? Why?
Because me and my mate got lost. It was a Year 8 school trip and the head­mas­ter really told me off for that.
Oh dear.
The hills are really big. They go from one end of Malvern to the other so I don't know the different parts.
You probably walked across the whole thing.
Probably. I remember there were some caves up there.


*


JANUARY with Little Boots: CLICK HERE


FEBRUARY with Eric Saade: CLICK HERE


MARCH with Mark Feehily: CLICK HERE


APRIL with Cher Lloyd: CLICK HERE


MAY with CocknBullKid: CLICK HERE


JUNE with Jordan Rizzlekick: CLICK HERE


JULY with Marvin Humes: CLICK HERE


AUGUST with Will Young: CLICK HERE


SEPTEMBER with Yasmin: CLICK HERE


OCTOBER with Joe McElderry: CLICK HERE


NOVEMBER with Patrick Wolf: CLICK HERE


DECEMBER with Aino Icona Pop: CLICK HERE