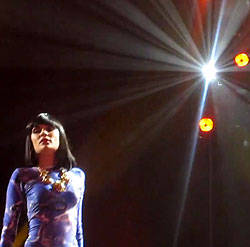 Here is a rundown of VH1's Divas special, which featured per­form­ances from Kelly Clarkson, Jessie J and Florence Welch. (Rolling Stone) Jessie J 'treated' the audience to no fewer than three costume changes, one par­tic­u­lar highlight being a skintight smurf 'ensemble'.

Lady Gaga has been named the Associated Press Entertainer Of The Year. (Associated Press) In other 'news', she's given her British driver a year's supply of nappies as he is soon to become a dad. (The Sun)

This is a trailer for Jennifer Lopez and ex-husband Marc Anthony's upcoming talent show Q'Viva! The Chosen. (YouTube) 'Jenny from the block' humbly explains that "this is like, me being able to really really go: I am Latino and this is who we are!" from the comfort of her private airline seat.

In 'quick let's shoehorn in some nicknames' news, Perrie from Little Mix is attempt­ing to make some bandmate names stick. (Daily Mail)

Another day, another Nicki Minaj teaser track. This one is pleas­antly titled 'Stupid Hoe'. (Just Jared)

Demi Lovato will be joining 'I Can't Do That Anymore' country warbler Faith Hill at the 38th annual People's Choice Awards on January 11. (Ace Showbiz)

Louis Walsh has been putting on his Mystic Meg hat and reckons Shane from Westlife will have the most suc­cess­ful solo career. (Daily Mirror) By some cosmic coin­cid­ence, Shane is the only member of the group Louis intends to manage.

Expect Justin Bieber's next album to be 20-tracks long featuring eight-minute songs about sex and regret with guest rappers aplenty, as Drake is working on it. (Rap-Up)

'How To Touch A Girl' hitmaker JoJo has "cooked-up" a version of 'The Christmas Song' for us all to enjoy. (That Grape Juice)

And finally, RedFoo of LMFAO has explained that he couldn't just pick one highlight of 2011, as "it's like asking a porn star what is the highlight of their year? Every day is the money shot". (Daily Star) However, he does suggest that throwing up after one too many shots in Switzerland was "awesome". What a guy. WHAT A GUY.
THAT WAS some of THE NEWS.