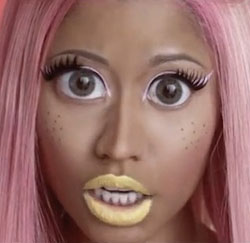 BET have 'allegedly' banned Nicki Minaj's 'Stupid Hoe' video from being shown, but refuse to explain why. (TMZ) In further Nicki news, it is well worth checking out her rider demands here.

'Harder To Breathe' hitmaker Adam Levine of Maroon 5 has decided to stop breaking wind in front of Christina Aguilera for the current season of The Voice. (Winnipeg Free Press) What a charmer!

Robbie Williams has posted a photo of himself when he was 14 years old. In the picture he is with a group of four women, and would like to know if one of them is you. (Robbie Williams Official)

In news that has in no way been made up to ingra­ti­ate an inter­na­tional singer with the British public, Rihanna appar­ently can't get enough of the full English breakfast, with a 'source' claiming she finds it the best cure after a night on the tiles. (The Sun)

In other exciting food news, Katy Perry was recently forced to eat a chicken and she liked it, claiming to have exper­i­enced a "chikgasim" as a result. (Twitter)

Authentic Chanteuse Lana Del Rey has been chatting about Britney Spears with Rick Astley. (The List)

If this 'leaked' Madonna set list for the Super Bowl is accurate, we wouldn't exactly be dis­ap­poin­ted. (New York Post)

Katy Perry, Alicia Keys and Coldplay will all be per­form­ing at the MusiCares Person Of The Year event, with this year's event being held in tribute to Paul McCartney. (Ace Showbiz)

And finally, The Wanted are keeping their col­lab­or­a­tion aims fairly realistic, with Rihanna, Jessie J and Usher at the top of their list. (Capital FM) Some leftfield choices there lads, well done.
THAT WAS some of THE NEWS.