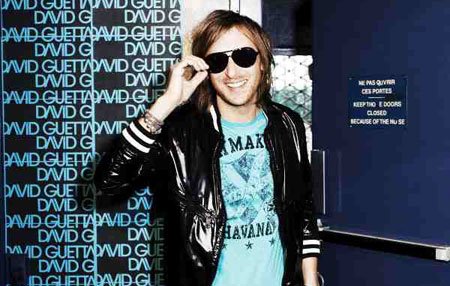 'Look we're not being funny right' and it might test the gag reflex of many readers but how amazing would the Brits be if David Guetta — nominated for International Male Solo Artist — turned up and did a massive hits megamix, a Guegamix if you will, featuring all his singing palz?

The answer to that question — which was rhet­or­ical FYI but we'll answer it anyway — is VERY.

You'd be wanting some sort of rotating stage with a variety of set changes, with David spending most of his time in the centre, a bit like a doughnut crossed with a fair­ground ride or something. You get the idea.

Even if we were just to take stuff from the last year or so we'd have a per­form­ance that looks like this:

» We open with Jessie J on the stage with an acoustic guitarist singing the intro to her David Guetta col­lab­or­a­tion 'Repeat' . "This is a bit boring," the viewers are thinking. But then obviously it all kicks off and lights flash and dancers come on and David Guetta drives around the stage in a Segway with a mixing desk attached to the front of it and all that old shit. After one chorus of 'Repeat' we go into…

» …'Sweat' with Snoop. For the Brits per­form­ance we'd hope that Guetta would swap out the riff he almost completey nicked off Felix's 'Don't You Want Me?' for the actual 'Don't You Want Me?' riff.

» Then 'Where Dem Girls At' drops in for the Nicki Minaj verse and chorus, with Nicki des­cend­ing from the ceiling in a bri­dicu­lous 'ensemble'. Flo Rida can join in if he's in the country. Minaj could then do a bit of current Guetta single 'Turn Me On', and a chorus of 'Stupid Hoe' if she wants but we'd rather she didn't because that would ruin the purity of the Guegamix.

» You can chuck in a bit of Rihanna's 'Who's That Chick?' but that would literally just be a tiny snatch of it as Rihanna runs across the stage belting out a chorus giving people just enough time to go 'fucking hell is that Rihanna', and before you know it you have…

» … Usher (or if he's not around a super­fi­cially incon­gru­ous but actually perfect Brits-friendly performer — let's say Michael Bublé, Seal or someone like that) coming on to do 'Without You', which is one of those unques­tion­ably brilliant songs David Guetta finds himself involved with by accident, much like…

» …'Titanium', which we are very quickly coming to think of as one of the best singles of all
time. For this Brits per­form­ance — the finalé of the Guegamix — we'd be looking for a combo of both the Sia and Mary J Blige versions with both warblers taking to the stage for a bit of a 'moment', except they're not British so that might not be very on message for the Brits so we'd ditch Sia (apols Sia) and have Mary J Blige doing the song with — pause for a moment here because this really would be extremely amazing — ADELE.

» Then David Guetta comes to the front of the stage and has a big wank into a pile of banknotes.

In, out, job done in six minutes. What we're looking for here, readers, is a 2012 version of this note­worthy Children's Royal Variety Performance blowout featuring Yell!, Jason Donovan, Big Fun, Sonia 'et al' with Pete Waterman at the helm.

[youtube]JIgZYKXyKVY[/youtube]

Do you know why this isn't happening, readers?

Is it because the Brits do not consider dance/pop/whatever music proper music and would rather dedicate eight hours to a Jessie J vs Ed Sheeran singoff boreathon? ABSOLUTELY NOT THE BRITS DOES NOT MAKE SUCH JUDGEMENTS.

It is because it would simply be too amazing. In much the same way that the club was incapable of handling Flo Rida in another of Guetta's hit tunes, so the Brits 2012 would not be able to handle the wall-to-wall amaz­ing­ness of this hits medley.

It's a health and safety issue more than anything.