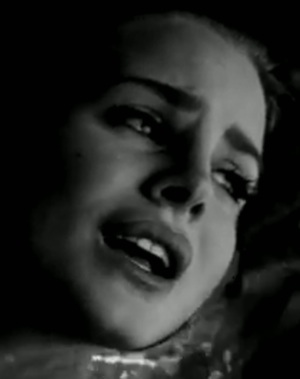 Authentic Chanteuse Lana Del Rey has released a video for 'Blue Jeans', which show her in black and white (of course) having a 'poolside dip' with a heavily-tattooed man and some cro­codiles. (Ace Showbiz)

You'll probably need to put a day aside to listen to Nicki Minaj's 'Pink Friday: Roman Reloaded', as it will be a 19-song opus. (My Pink Friday) And that's not even including the bonus tracks.

Olly Murs is getting the Eurostar from King's Cross Station later today, so watch out if you're in the area. (Twitter)

Gotye is still Number One in the singles chart while The Military Wives are top of the album chart. (Official Charts) Well done everyone.

Taylor Swift has performed her Hunger Games 'Eyes Open' track live for the first time, and you can watch some amateur footage of that here if you wish.

Alexandra Burke is annoyed that Cheryl Cole has been ignoring her texts but had not problem publicly tweeting her. (Entertainmentwise)

'Apparently' Adele has taken up Pilates "after TV presenter Alan Carr recom­men­ded it". (Daily Mail)

BOOK YOUR FLIGHTS NOW: 'New Shoes' hitmaker Paolo Nutini has been added to the Ibiza and Majorca Rocks 2012 lineup, which also includes 'exciting' artistes such as Kasabian and Ed Sheeran. (NME)

And finally, Lady Gaga's parents' New York apartment is having some issues with mice at the moment. (The Sun) You could even say they are having a bad romouse problem AHAHAHAHA THANK YOU WE'RE HERE ALL WEEK.
THAT WAS some of THE NEWS.