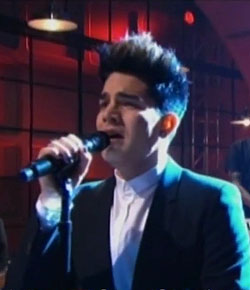 The never knowingly under­stated Adam Lambert performed his new single 'Better Than I Know Myself' on Jay Leno last night and jolly good it was too. (Neon Limelight) That 'vocal run' from 3:16 in is 'quite something'.

Brandy and Monica's new col­lab­or­a­tion will be called 'It All Belongs To Me' and is due to be released at the beginning of February. (LA Times) Producer Rico Love manages to make it all sound a bit dull, however — all "Beatles-sounding guitars" this and "strong content" that.

Fans of virtual reality and cotton candy rejoice: Katy Perry will have her own 'world' in the new Sims game. (Billboard)

Paris Hilton's much-heralded new dance direction will be ushered in by a col­lab­or­a­tion with LMFAO. (MTV) Seriously, well done everyone.

Perpetually vin­dic­ated hat-botherer Dappy would quite like Brian May to whittle him a guitar after the indes­crib­ably coiffured guitarist revealed he'd recently made one out of a fireplace. (Daily Star)

Olly Murs' new video is set in the beautiful 'environs' of Westfield Stratford. (Capital FM) Unfortunately Olly can't reveal what the single will actually be.

President Obama would quite like Adam Levine, Alicia Keys and Jay‑Z to perform for him during his re-election campaign. (Rolling Stone)

And finally, just when you figured life was tough enough as it is, will.i.am goes and releases a re-worked version of col­lab­or­a­tion shitshow 'THE (The Hardest Ever)', called 'Go Home'. (Idolator) Cheers!
THAT WAS some of THE NEWS.