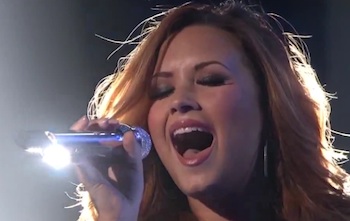 Demi Lovato performed her cultural behemoth 'Give Your Heart A Break' on American Idol last night. (Ace Showbiz) We think she's wearing a Guns N' Roses t‑shirt, but her hair is covering most of it so there's no need to panic.

Meanwhile, due to "schedul­ing conflicts" (hm…) Authentic Chanteuse Lana Del Rey pre-recorded her per­form­ance of 'Video Games' for next week's Idol. (E! Online)

Various bits of old footage of Adele when she was 16 doing that singing thing she does quite well have been found and edited together. (The Sun)

Aston from JLS nearly 'did a Jason Derulo' when he messed up a back flip and landed on his head during tour rehears­als. (Daily Mirror) Meanwhile, in slightly unrelated but nev­er­the­less essential JLS news, JB has bought a tractor.

If you were thinking 'I really hope that in Nicki Minaj's 'Starships' video she wears a pink bikini and green wig 'ensemble' and rolls around on the beach a bit', you're in luck, as these photos demon­strate.

Estelle has been defending Changed Man Chris Brown, stating: "I respect him, I love him, he does amazing music, and has evolved. He's worked his ass off, so why are people still cru­ci­fy­ing him?" (That Grape Juice) Answer, in brief: some people don't like men who beat up women.

Another day, another Madonna 'snippet': this time it's for 'I Don't Give A' featuring Nicki Minaj. (YouTube)

In disin­genu­ous­ness news, Rihanna insists she never dresses to thrill or to grab attention. (Contactmusic)

And finally, it's the moment we've all been waiting for: in a token­istic nod to fan inter­ac­tion Justin Bieber has gen­er­ously given his fans two different artwork designs (which look incred­ibly similar) to choose from for his new single 'Boyfriend'. The sleeves are now 'battling it out' in a Twitter poll. (Justin Bieber Official) The results are in on Monday. We cannot wait.
THAT WAS some of THE NEWS.