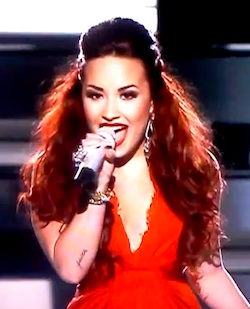 Demi Lovato performed cultural behemoth 'Give Your Heart A Break' at the People's Choice Awards last night, where she won Favourite Pop Artist. (Ace Showbiz) Although they were not in attend­ance ('had something better to do'), Lady Gaga and Katy Perry won two and three awards respectively.

In 'Houston, we have 99 problems' news, 'Lift Off' hitmakers Beyoncé and Jay‑Z appar­ently want to be in the first music video shot in space. (The Sun) In other news, daughter Blue Ivy has become the youngest chart performer ever, as 'Glory' has got to 74 in the Hot 100. (Billboard)

Nicki Minaj will be per­form­ing at the Grammy Awards for the first time. (Rap-Up)

Justin Bieber appears to be having a good time on stage with this dancing toy robot called mRobo, for which he was appar­ently the 'inspir­a­tion'. (engadget) It's not much of a com­pli­ment to be honest. IF SOMEONE COULD INSERT A JOKE HERE IN WHICH WE MAKE A COMMENT ABOUT 'OH WHAT WILL HAPPEN IF IT ONE DAY BECOMES SENTIENT' AND THEN IT TURNS OUT WE ARE TALKING ABOUT JUSTIN INSTEAD OF THE ROBOT THAT WOULD BE GREAT THANKS

Ke$ha has had an 'I know what Cher Lloyd did last summer' haircut, and has had half of it shaved off. (toofab) One of her followers replied "oooh errr kesha not sure about that look", which seems like a fair reaction. Here is another.

In further 'hair drama' news, 'Disaster' hitmaker JoJo recently spilt some French vanilla coffee on her locks. (Twitter)

Somewhat inev­it­ab­il­ity, some people don't like the fact that Madonna's new album title 'MDNA' sounds a bit like a well-known drug. (Contactmusic) It sounds a bit like Medina as well you po-faced fuckers, but you don't see pro­ponents of funkiness or coldness getting their knickers in a twist, do you? No you don't.

Rihanna's 'We Found Love' is back at the top of the Hot 100 for a ninth week, ending the 'reign' of 'Sexy And I Know It' by daily shufflers LMFAO. (That Grape Juice)

And finally, Kelly Clarkson had better start mem­or­ising the lyrics to 'The Star-Spangled Banner', as she has been chosen to sing the National Anthem at the Madonnabowl next month. (MTV)
THAT WAS some of THE NEWS.