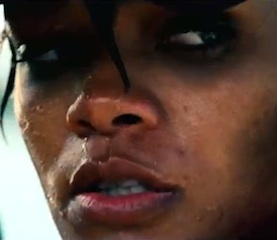 As well as per­form­ing 6000 concerts and releasing albums with half-finished songs on them, Rihanna took some time out this year to follow in Serious Actor Justin Timberlake's footsteps and star in a film. Here is a new trailer for it. (YouTube) Nautical, but nice.

Lady Gaga, Kelly Clarkson and Demi Lovato all performed at Z100's Jingle Ball at Madison Square Garden on Friday night. (Billboard) 'Sticky Icky' hitmaker Pitbull performed a 'medley' of nearly every guest rap he's ever done, which sounds like a real treat.

Katy Perry hosted Saturday Night Live this weekend, while Robyn – whom Perry called "the epitome of effort­less cool" — performed 'Dancing On My Own' and 'Call Your Girlfriend'. (MTV)

Adele, Ke$ha and Miley Cyrus have recorded cover versions of Bob Dylan (ask your most boring acquaint­ance) songs for an Amnesty International com­pil­a­tion. (Rolling Stone) There is a video of Ke$ha getting quite emotional.

Justin Bieber, Jennifer Hudson and Cee Lo Green (of course) sang for President Obama at the annual Christmas In Washington concert yesterday. (Washington Post)

'Pretty Please (Love Me)' singer Estelle was in Kuwait all weekend per­form­ing for some US troops. (Contactmusic)

Jessie J dressed as a 'saucy' sea captain at T4's Stars Of 2011 concert. (Daily Mail) In a shocking turn of events, Pixie Lott wore some short shorts.

Sarah Harding has been dis­cuss­ing her life pre-rehab. (The Sun)

And finally, Little Mix beat Marcus Collins to be crowned X Factor winners at Wembley Arena last night, and have released non-Gary Barlow penned indie anthem 'Cannonball' for our festive enjoyment. There is a breakdown of each week's voting results here. (The X Factor)
THAT WAS some of THE NEWS.