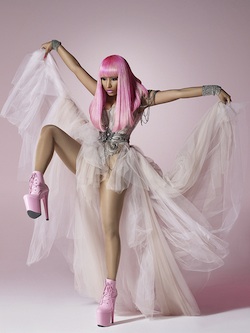 Nicki Minaj is currently the most followed rapper on Twitter, just over­tak­ing 'Roman's Revenge' 'spitting' partner Eminem. (Billboard)

If you ever wanted to know what '¿Dónde Estás Corazón?' hitmaker Shakira and Wayne Rooney look like next to each other you're in luck, as they both attended FIFA's Ballon D'Or 2011 last night. (Daily Mirror) Incidentally rumours of Rooney joining a Scottish football side are not to be believed and look like they might have come from the club itself. We wonder if Shakira will continue to insist that Hibs don't lie.

Mollie from The Saturdays is 'doing a Madonna' and trying her hand at a bit of film­mak­ing, making a "block­buster about the tour!!!" (Twitter) Perhaps she will find a way to factor all those 'black curtains of doom' shots into some sort of 'narrative'.

Cheryl Cole might be teaming up with notorious-picky-about-who-she-works-with chanteuse Rihanna for her new album. (Capital FM)

'Apparently' Grammy producers would quite like Adele to open the show next month, should she be able to sing properly by then. (Daily Mail)

As well as becoming an Auntie, Solange Knowles has landed herself a modeling contract with Next Model Management, who seem hell bent on signing every female singer on the planet to their books. (Huffington Post)

In 'might need to up his game a bit' news, Niall from One Direction tries to impress girls by playing the theme tune to Barney The Dinosaur on the guitar. (Daily Star) The whole 'Niall Horan' 'thing' feels to us a bit like a pop version of the Tom Hanks film Big, with a child finding himself in the body of an adult. Mind you we suppose that could just as easily describe the recent romantic endeav­ours of Harry Styles.

The Spice Bus may need a service and MOT, as Mel B says she would love it if the band got together for another tour. (Contactmusic)

And finally, Lady Gaga has been styled as a 'futur­istic robot' ('bit silvery and topless') for the new issue of Italian Vogue. (Vogue Italia)
THAT WAS some of THE NEWS.