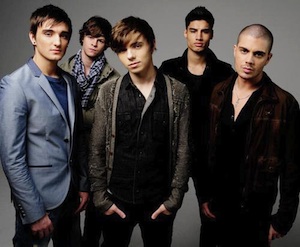 The Wanted's success in the US continues, as 'Glad You Came' WHICH ISN'T EVEN THEIR BEST SONG has risen to Number 5 on the Hot 100. (Billboard) In other news, Jay has been bragging about how he has "slept with more girls in American in one month than I have for a whole year in the UK", which seems to say as much about him than it does The Ladies Of The United States but there you go. (The Sun)

Lady Gaga, Hurts, Katy B and Florence & The Machine all won NME Awards last night, while One Direction 'won' the Worst Band award and Justin Bieber received Villain Of The Year and Worst Album awards. (NME)

Speaking of Justin Bieber, it's his 18th Birthday today so let's watch some of his earlier work to celebrate this momentous occasion. (YouTube)

Mollie from The Saturdays has decided that the time has come to buy herself a bike. (Twitter)

'All Dressed In Love' hitmaker Jennifer Hudson has released the video for 'Think Like A Man', which features Ne-Yo and Rick Ross. (Ace Showbiz) Ne-Yo is seen 'sporting' a fairly nice yellow cardigan.

Kylie Minogue is set to perform at the Queen's Diamond Jubilee concert, giving us the grand total of one reason to look forward to it. (Sky News)

In 'popstar business' news, Adam Lambert's pre-American Idol album 'Beg For Mercy' is set to be come out after the lawsuit against its release has been dropped. (Contactmusic)

Brandy and Monica have been dis­cuss­ing their rich and complex history together, in a thing you can watch here.

And finally, Rihanna appar­ently flew her stylist all the way from LA to London to sort out her hair, as she found her weave in a hopeless state after a sauna visit. (Winnipeg Free Press)
THAT WAS some of THE NEWS.