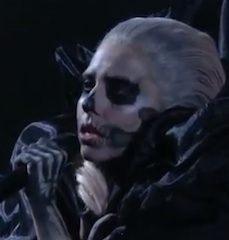 The demurely-titled The GRAMMY Nomination Concert Live!! took place in LA last night, where it was announced that Adele and Bruno Mars had received six nom­in­a­tions each. (Grammy.com) Graceful award ceremony guest Kanye West was the highest nominated artist with seven 'nods' while Lady Gaga opened and closed the show with 'Marry The Night' and 'Yoü and I'. Rihanna performed 'We Found Love' via satellite as she is still in London, approach­ing the midway point on her 543-night run at the O2.

In news that could bollocks up her band's chances of winning The X Factor, Little Mix's Perrie Edwards is appar­ently 'doing a Rebecca Ferguson' and dating Zayn from One Direction. (The Sun)

Kylie Minogue has been getting excited about Madonna's new album. (Billboard) ''I hope she kills it," notes the 'Breathe' hitmaker. "I want her to do really, really well. As a fan, I want some great Madonna music.''

In a further popstar-related lovefest, Britney Spears has been going on about how much she idolises Jennifer Lopez. (Entertainmentwise)

JLS have named their five top boyband songs of all time. (Music-news) It's not the most inspiring of choices, to be perfectly honest.

Shy and retiring warbler Kelly Rowland wants people to be careful having sex. (Contactmusic)

Katy Perry has rubbished all those nasty rumours that she is getting a divorce. (OK!)

And finally, it's the video event you've all been waiting for: Mariah Carey and Justin Bieber duetting and flirting on 'All I Want For Christmas Is You'. (YouTube) Highlights include Justin pushing a trolley and the appear­ance of a reas­on­ably small dog.
THAT WAS some of THE NEWS.