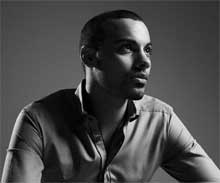 Bryn Christopher's first single 'The Quest' was brilliant (AS WE STATED VERY CLEARLY, IN CASE ANYBODY IS IN ANY DOUBT ABOUT THAT).
His second single was a bit shit, as we also stated.
Then came his album, which had some very good bits in it, although someone somewhere clearly forgot to put a third single on it because his next release — today's Song Of The Day, 'Fearless' — isn't actually on the album.
That's right, viewers, it's a Brand New Song. Fire up the CD presses for a 'deluxe edition' etc etc.
Let's have a listen.
[audio:fearless.mp3]
In case you can't play that clip or are deaf, what we have here is a song which starts off like a 2009 reima­gin­ing of 'Unfinished Sympathy' then explodes into a Very Big Chorus full of wailing and warbling. We would like to know the name of the lady doing 'BV's on this song — she is amazing.
The lyrics are probably about something incred­ibly important but we haven't listened to them properly yet so if they turn out to be about killing kids don't hold it against us.
SPARE BRYN CHRISTOPHER HEADLINES KEPT ASIDE FOR FUTURE USE

» Bryn There, Done That.
» Since U Bryn Gone.
»
Wheelie Bryn.
» I'm Bryn The Mood For Dancing.
» Gordon Bryn Is The Prime Minister.
» The Brynner Takes It All.
» Bryn In Your Diet Keeps You Regular.