WE SENT CHARLI XCX SOME QUESTIONS WHICH LOOKED QUITE RUDE WRITTEN DOWN BUT SHE TOOK IT ALL QUITE WELL AND SENT US SOME ANSWERS BACK AND HERE ARE THOSE QUESTIONS FOLLOWED BY THE ANSWERS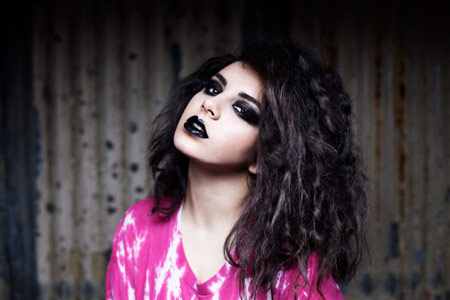 Questions: Peter Robinson
Answers: Charli XCX (obviously)
You performed at a reas­on­ably poorly attended (which was Popjustice's fault) Popjustice live event at the Old Blue Last about three years ago. What have you been doing since then?
I remember that. Since then I've been writing the record, which is finally perfect (in my ears) and playing shows and living in London and not being 14 anymore.
Do you sometimes wonder if it's all worth it?
No, I know it will be. I've wanted to do this from day one, so I'm ready.
'Nuclear Seasons' is one of numerous actually-really-good songs you have up your sleeve. Do you think people would be as excited about your music if you were fat and 38?
Perhaps if they closed their eyes?
How old do you think you will be when you have your first Top 5 single?
20… Or maybe a bit before then. But don't hold me to that.
How old do you think you will be when you have your last Top 5 single?
I'm not really sure. I quite like the old popstar vibe. If I was 60 plus and had an awesome Top 5 single that would be amazing. Also, I think if you're past 60 and still suc­cess­ful you really can do and wear whatever you want and still be cool without being a dick. I'm going to only wear Pam Hogg catsuits after my 60th birthday.
Are you better than people think you are, or not as good as people think you are?
I think I'm better than some people think I am. Some people think I'm still rapping about ponies and rainbows and glitter and cupcakes… But I'm over that now. The music is much better and much more real and much more me.
There are lots of things about you that are a bit like lots of other people. But there are some things about you that don't seem like anyone else at all. Where do those bits come from?
I guess just from my own personal journey so far… I was heavily influ­enced by the warehouse scene and club kid culture when I was younger, so from having grown up around that I guess I've transfered parts of that world into my per­form­ance and my writing. I like to keep things raw.
Have you ever fallen in a hole?
No, but I've wondered what would happen once you fall down one. Does it keep going, how do you get out etc.
Most of the people you've been compared to haven't done as well as their labels might have hoped. Are you taking something other people have done wrong and doing it right, or are you just doing what you want?
I'm not con­sciously taking anything from anyone. Without trying to sound all X Factor, I'm just being myself and yeah, I guess, doing what I want to do and leaving my mark.
What do you want?
To be looked upon as a credible artist and for my body of work to be respected as good pop songs with beautiful lyrics. And a Nandos black card… But I'm not about to write a song about a chicken.
What would you be prepared to give up to achieve it?
Nothing too drastic, I like my life… But I want this to work out for me, so I guess a lot of my time and energy. What a boring answer.
What was the last song that you enjoyed so much that it made you quite angry that you hadn't in fact written or recorded it yourself?
'I'm His Girl' by Friends. It's amazing and dreamy. Plus the video is super cool.
What are your thoughts on mangoes.
Great in smoothies, bad in chutneys.
*