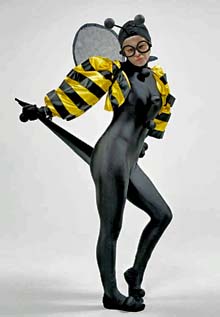 In case you haven't noticed we have done an interview with Robyn and put it on the site. The last time we inter­viewed Robyn it was mostly about her washing but this time around we had a very popular hit record to discuss with her. It's called 'With Every Heartbeat' and you probably down­loaded it illegally over the past year or so.
The new interview goes a bit like this.
»
Robyn thinks the new Spice Girls single will be a load of old shit and that she will beat them to Christmas Number One.
»
Robyn will not be releasing 'Be Mine!' as her second single because it is the best song on her album.
» Robyn suggests that a band only needs one good song to be a success.
» Robyn says that she made Kleerup cry when she wrote 'With Every Hearbeat' because it is about his ex.
» Robyn says that she is off to see her accountant.