Preston interview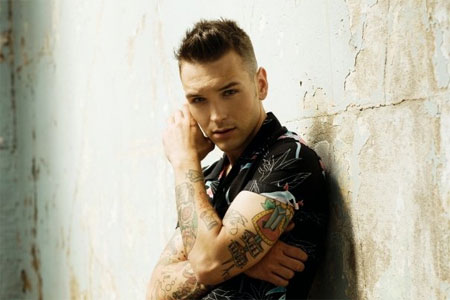 Questions: Peter Robinson
Answers: Preston (obviously)
Hello Preston. Was the point when you were looking a total state and com­pletely down the dumper etc all part of a mas­ter­plan to make yourself look even better once you'd got your haircut?
I'd love to say it was me being clever but it was really just me sub­sti­tut­ing food with wine and just sort of sitting around. Then I just I gave up everything I liked and I got there.
So now you've had your photos taken you can get back on the booze.
EXACTLY. People are inter­view­ing me and they've prepared all these questions going, 'so, your new image is great…' then they look up and there I am, and they realise the pictures were taken two months ago, and that I've started to slide back again. But I don't see myself as someone who can put that time and effort into appear­ance – there are funner things I could be doing with my time.
Like eating a load of cakes.
Exactly!
And, from the look of your video, dressing like a crap vampire.
Yeah… Well that kind of went a little bit wrong. All I said – ALL I SAID – was that I wanted to be like a sexy vampire. I wanted it to feel like The Lost Boys, so I was expecting these subtle little sexy fangs. Instead, and this sounds like me exag­ger­at­ing but it's genuinely what happened – do you remember Smiffy's, that fancy dress and practical joke company that used to advertise in the back of the Beano? That's where they bloody got them! They must have cost 75p. They were like walrus tusks. It was awful. It's kind of backfired. Rather than being a sexy vampire it actually made me look more unat­tract­ive. But the idea was very good.
Like mums always say, it's the thought that counts.
Exactly.
What was the thinking behind The New Sound Of Preston?
Well, before The Ordinary Boys came alone The Strokes had changed everything and guitar music was really exciting again and you wanted to pick up a guitar. Now people like MGMT have had the same influence with a different style, which is also really exciting…
So are you resigned to simply following other acts' lead on things like this?
No, I'll follow whatever's exciting at the time…
Or, will you just follow whatever's popular?
It's not a case of that, really. I started my album like 18 months ago and there was a sound that was bubbling under – LCD Soundsysten, The Rapture from four or five years ago – of pop music that was elec­tronic and a bit dancey, and the seed was really planted there, and it's just so exciting making music like this. Music is a lot more malleable when it's at the click of a mouse. It's weird, NME TV did a thing with me yesterday and they gave me a list of songs to pick from and I was like, 'wow, what will I choose, The View or Pigeon Detectives?' but as it turned out the list wasn't like that at all. Every record I chose would somehow link back to Diplo or Switch. What's funny to imagine, is if I hadn't got into elec­tronic music or pop and if I had made an indie record that sounded like The Libertines or whatever, I wonder what the situation would be now? It would be very different.
The music probably wouldn't be very good.
Well no.
Whereas the songs you've got for the album you've made are actually good. There's somewhere to go, even if the first one doesn't really work.
There's a bunch of singles, yeah, I feel that too. Although I've just spent this morning renewing my American passport so I can run away if I have to. I think this is one of the reasons I do all these stupid things, I sort of know that I've got American cit­izen­ship so it's not actually a bad option for me to move over to America and get a job and start again. I can make as much of a mess as I like over here and I've still got something else.
This isn't the confident, defiant pep talk one expects from an artist releasing a new single.
Well it's an option! And I know I've got a massive obstacle to get over, which is – I guess – clearing my name.
Clearing your name against what?
Well, acting like a prick for about three years of my life. One of the things I don't really enjoy doing are the really odd live events, where they'll introduce me on stage – literally – with the words 'and he's just fresh from his divorce… It's Preston!'. It's like being kicked in the stomach then being asked to sing a song. 'Recently heart­broken… It's Preston!'. (Laughs) I mean I know I've made my bed with this one, but I'd like to keep some sort of distance between my divorce and my singing, if possible. I guess that's a challenge.
Particularly when a lot of your songs are about, er, your divorce.
Well, er, yes, I guess… Erm, yeah.
But of course the music should speak for itself!
Yes! It's funny, the whole concept of explain­ing your songs is a weird one for me. I like to hear songs that are unex­plained. There's something slightly unap­peal­ing in someone explain­ing a song. I find it really difficult to do, it's instinct­ive really – and I know this is going to sound like I'm talking about 'chan­nel­ling songs' but it's not quite that – but there's something that doesn't quite work when you start explain­ing the words. But I know you can't say 'oh, it just sort of came to me', because you sound like a cunt. It's also hard when I'm on my own, as I am now, because I can't rely on band members to take some of the blame for the songs. There's something about the solid­ar­ity of being in a band that's very com­fort­ing. I do feel slightly naked now.
Is there anything you would have done differently?
The thing is, before everything happened with Big Brother, I was at a cross­roads where I was thinking, 'shall I take the sensible option for the solid career, or shall I go down this road which is fucking ridicu­lous and will probably end in total chaos but might be enjoyable?'.
If you'd carried on down the sensible route in The Ordinary Boys you would have been dropped by now anyway.
(Laughs) Well exactly. That's exactly the truth of it. I can't even believe I haven't been dropped already!
Well let's wait and see where the first single goes, eh?
I'm so, so scared about that. I've noticed that my label aren't com­pletely com­mit­ting to an album release date. I'm thinking, 'please, please don't let this be worst case scenario'. I just phone up everyone every half an hour – 'am I on the radio yet? When's my album coming out?'. Not annoying at all. (Laughs) But you have to care.
People in bands, of course, are notori­ously keen on not appearing to care about such matters.
That's a real band thing! I used to be like that. If you're on tour and every night you've got your fans screaming at you, you don't chase the bigger picture. Now I'm starting to see the big picture. And it was shock­ingly upsetting to me and I felt like I needed to do something about it.
What does the big picture look like, then?
It's a picture of people wondering whether they can forgive me my sins.
*
Preston has his own MySpace where you can follow his 'exploits'.