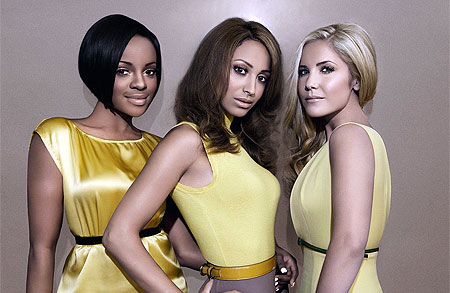 A new Sugababes single is always a reason to get excited and their new track, 'Get Sexy', is a big, fearsome explosion of a pop record. At first listen it sounds quite aggress­ive and adven­tur­ous which, in a
post-'Bonkers'-at-Number-One, post-'Boom Boom Pow'-at-Number-One world,
it's really not; pop changes its sound as the years go by and if they're clever so do pop groups. Sonically this is just what the Sugababes needed after the wet Wednesday of their last
album campaign — a campaign which despite an album we loved seemed to
chime so badly with fans that the band looked like they were on the brink of something not very good at all.
After all that we'd kind of wanted the band to take a year off for 2009 but with one major British girlgroup notable by absence from this autumn's release schedules it makes sense for Sugababes to storm ahead. Followers of the band's — par­tic­u­larly Keisha's — Twitter pages will have a fair idea already of what's to come from the new album and fans received a surprise this weekend when a clip of 'Get Sexy' leaked online ahead of its Radio One debut tomorrow.
Well, the clip was a very early demo; the clip that leaked gives you a general feel for things but one major change is that while some of the male vocals remain (in the verses' call-and-response portions) the girls now sing the song's a massive bridge, whose lyrics are now based on Right Said Fred's 'I'm Too Sexy': "cos I'm too sexy in this club, too sexy in this club, so sexy it hurts". There's also a fantastic middle eight built around a playful chant of "if I had a dime (dime) for every single time (time) these boys stop and stare, I'd be a billionaire".
It's a confusing listen — to these ears the verses are terrible and trite while everything else in the song is just totally brilliant and exciting. The ups and downs are frus­trat­ing; here's what the listening exper­i­ence at Popjustice HQ looks like.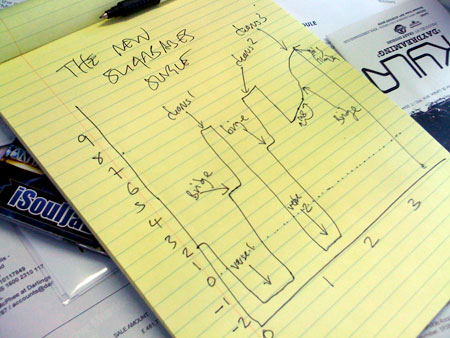 What we predict will happen:
1. The verses will sort of start to make sense or at least feel less terrible as time goes by, much like a terrible band name like 'Sugababes' just gradually blends into your brain and stops seeming terrible.
2. The second single will be a still quite inter­est­ing but also rather less BANG BANG BANG IN YOUR FACE FACE FACE than this one.
3. The album will do quite well.
The End.
(Don't forget — Scott Mills is playing the track tomorrow so 'tune in' for the first listen.)