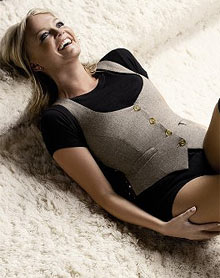 Ladies and gentlemen, it's Emma Bunton. In a nutshell, she will work until 10pm at night and thinks it's absolutely fine for a room of strangers to stand around pointing at her undercarriage.
Hello Emma Bunton.
Hello Popjustice. I've just realized that I'm sitting at a table with a tiny Christmas tree on it. A very small Christmas tree indeed (almost falls off chair laughing).
Is it big enough to make you feel Christmassy?
No. There aren't even any baubles on it. It is a rubbish Christmas tree. I'm not happy about that.
Well, no. Are you going to win 'Strictly Come Dancing'?
I'm not even thinking about that. I'm voting for Matt and Louisa. I think the standard is so high. Plus, I'm getting really tired so I don't know how much longer I've got.
You must be quite busy Emma. Hopefully you are coping with it all.
Last week was a bit much, but everything I've been doing like 'Children In Need' and turning on Christmas lights have been in my diary for a very long time and it has meant I couldn't train so hard, but that is all part of the show.
How would you argue that 'Life In Mono' is the best album of 2006?
Well, people are going to love my album. It's got a real sixties feel to it, which I know people know me for now. Also I've written all the tracks [except 'Downtown' and the title track, obvioously] and they are very personal. I've grown up a lot this year so I think you'll get to know me a bit better.
The dancers in the 'Downtown' video seem to know you very well indeed. So well that they are all pointing at your fanny. Was this your idea?
I don't under­stand where this has come from. It is a dance routine and it is nothing to do with anything like that. It is everyone else's dirty little minds. Especially yours. It worries me because it is a classic and you can't make classics rude.
So there was nothing sexual in the original at all?
(Frostily) I don't think so. I know Tony Hatch quite well and I don't think he would have written about anything like that.

NEWSFLASH!There was a very good Petula doc­u­ment­ary on BBC4 recently in which it was explained that 'Downtown' isn't very innocent and worked so well because Petula made it seem like it was when it wasn't, etc etc.
Is it possible for new popstars to launch without doing reality TV?
Yes, I think so. For me this was just about the challenge, I've been a fan of 'Strictly' for ages, I've watched every series, and I remember thinking I'd love to do it. But it depends, if people want to go for it on their own then it is hard work and it is something you have to put your mind to but I don't think you have to do that to sell records.
It must have been easier when you could just go on CD:UK for five minutes though.
I'm having an amazing time at the moment and learning a new skill is fantastic. I turned thirty this year and I decided that I wanted to set myself challenges.
Well yes but it was surely easier to sell records when you could get on the front page of The Sun just for falling off your shoes.
Well, last week I was on a cover for something like that, it still happens. I was on there for crying, that was it. So that still happens for me.
Good. Thank you Emma Bunton.
Thank you Popjustice.
*