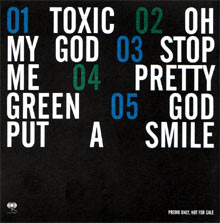 This (right) arrived at PJHQ today. It is a sampler of tracks from 'Version' — the new Mark Ronson album, which is out NEXT BLOODY APRIL.
Maybe we are already drunk at the very prospect of tonight's Girls Aloud party but the five tracks on the CD sound like the most amazing things ever.
It's a load of cover versions, you see. A bit like that Radiohead one he did earlier in the year.
The ones on the sampler are…
» Britney's 'Toxic' by ODB.
» Kaiser Chiefs'
'Oh My God'
by Lily Allen, which you have probably already heard.
» The Smiths' 'Stop Me If You Think You've Heard This One Before' performed by Daniel Merriweather which also segues into 'You Keep Me Hangin' On'.
» The Jam's 'Pretty Green' done by something called Santo Gold.
» A triumpety version of Coldplay's 'God Put A Smile On Your Face'. Actually this one is a bit shit.
We are as fed up as you all are of the whole "OMG!!!11!! [Band A] has done a cover of a song by [Band B] and made it sound a bit different!11!" phe­nomenon (which is all Jo Whiley's fault). Hopefully the 'Version' album will provide a good point of closure to the last 18 months of Whileyrock.
Perhaps, in fact, there should be a 'cover versions amnesty' between now and the Mark Ronson album's release in April. After that point anybody thinking of per­form­ing an 'unlikely' or 'unusual' cover version should be shot.
Leave this one with us — we'll have a word with The Government.