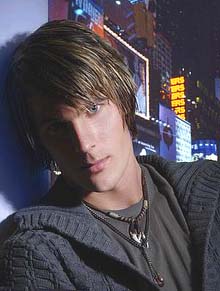 Basshunter talks about porn plans and knocking off Leon Jackson…
Basshunter's new single, 'Now You're Gone', is a Number One single, which means a lot of boo-hooing to mummy for little Leon Jackson.
As well as having a couple of massive hits across Europe, Swedish singer and producer Jonas Erik Altberg has also made a name for himself with naked pictures appearing all over the internet.
We spoke to him recently about both of these things…
Questions: Peter Robinson
Answers: Basshunter (obviously)
Hello, Basshunter. Are you aware that you are going to be Number One in the UK?
I know I have knocked the boy from X Factor from Number One and I know they can be tricky to knock off the charts.
And how will you be celebrating?
I will be drinking a lot of whisky and playing 'World Of Warcraft' with my friends. I don't have much time to play computer games and hang out with my old friends drinking scotch any more, so it's the best way I could possibly celebrate my success.
Your video follows a tra­di­tional format of some nice looking women rubbing up against each other and groping one another's breasts. Are you a fan of this popular approach?
That's my style, I like women but I don't really know what happened with that video – I do think it's cool though. I don't want to be in the centre all the time so I'm happy to only be in the video for about two seconds. I started out being a DJ at small parties around my hometown so it felt good not to have too much pressure on me when it came to making the video.
Why do you never see men rubbing up against each other in pop videos?
Because women have bigger boobs! Sex sells and everyone knows it; I know that I'm a man and when I see a girl on the TV I start to think special things…
Such as: 'I must go and buy that single'?
Exactly. In my next video I'll have two girls and 80 guys and we can stand there with our tops off in our banana pants and just swing it. That would be totally super.
Speaking of 'banana pants', there are a lot of inter­est­ing pictures of you on the internet right now…
I'm sorry you had to see those. Do you want the story behind them?
That would be nice.
I'm just going to get some whisky.
Do you need to be drunk to tell the story?
Oh no, I'm just thirsty. Those pictures were taken at my parents' house and me, my girl­friend and friends had been partying and drinking before­hand. We decided to take some pictures and have a little sex orgy at my place, and those pictures 'somehow' popped up on the internet. It wasn't me who put them online.
So it doesn't make you feel awkward knowing that as many people have seen you having sex as have bought your single?
I don't feel awkward at all. The only thing I feel bad about is that the pictures could have done with a lot of work in Photoshop, that's all I feel awkward about. Honest. I can honestly say that I like sex – I like very much to use my penis for what I was born to do and I'm not really the shy guy. I want to show the world.
Do your parents know that you were having orgies at their house?
My parents were among the first people to see the pictures, actually. My mum is like Inspector Gadget, she finds out stuff faster than me or my man­age­ment – and then, of course, she's straight on the phone to them saying, 'Have you heard about these photos?' Everybody should have a mum like that.
What does the future hold for Basshunter?
Maybe in five years I will be working like a normal person somewhere, I have a special plan for what I want to be doing in five years…
And that plan is?
It's a secret. Well, actually it isn't. I'm going to go into porn, I'm planning to do a movie like Paris Hilton did, although I don't know if as many people would want to see it – unless I manage to Photoshop things first…
Thank you very much, Basshunter.
*
(You can google 'the rest'for yourself…)