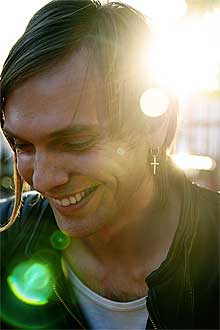 Yesterday's Song Of The Day , 'Young Love' by Moto boy, is com­pletely brilliant in too many ways to list here.
His label are offering Popjustice viewers the track as a nice, free, no-strings MP3 download.
Click here to download the MP3.
The album, which is released by Sweden's brilliant Songs I Wish I Had Written label (who also put out Le Sport's stuff), will probably end the year as one of 2008's best. We got it in the post on Monday and iTunes tells us we've already listened to the whole thing 22 times. We don't know if that is :) or :( but if you like Rufus and Antony & The Johnsons and The Magnetic Fields and Jens Lekman and that sort of shit we think you'll really like it too.