"

THINGS CAN START GOING TERRIBLY WRONG WHEN POPSTARS ALWAYS GET THEIR OWN WAY" IS ONE OF VARIOUS INTERESTING POINTS RAISED BY DARREN HAYES IN THIS INTERVIEW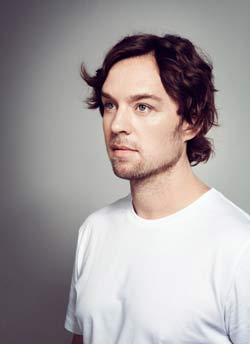 What have you been up to recently, Darren?
Nothing. Been watching TV. I've made a couple of records.

That's inter­est­ing — what's been on TV?
Oh God, cooking shows. I'm almost 40 now, so we just watch cooking shows.

What I quite like about cooking shows is when they have con­test­ant who just really enjoy cooking, and then people come out and shout at them for being shit.
Yeah, I know. I've just watched one where someone started crying because they made him onion ice cream. It's sort of like dubstep remixes of pop songs — not really the direction you want to go in. Now, the Great British Bake-off! That's a show.

It literally is.
It's literally a show. (Laughs)

You mentioned that you'd made a couple of albums. I didn't par­tic­u­larly write very much about your recent album because, well, I don't know why and I've been thinking about this recently. And the reason I've been thinking about it is that I was listening to the album over the weekend. It just popped up in iTunes. And I enjoyed it more than I would have expected myself to. So I tweeted about it and then one thing led to another and an interview was set up, and now here we are. But you're quite far into the campaign. So the question is: 'what am I going to have a chat with Darren Hayes about, given that the album's been out for a while now?'
It's like we had a fairly average date and then, yeah, sort of gave it up a while ago. What's the point really? (Laughs)

We had a really good date with 'The Tension And The Spark' and I think since then I've been thinking 'do I need another date, what if it all goes wrong?'
Right. Erm. Well that's… I can't really answer that.

That was a rhet­or­ical question so it doesn't matter. But the thing is, and I think this is part of the reason I didn't invest much time in the new album until recently, I liked 'The Tension And The Spark' a massive amount. So the question is: do I really need two decent Darren Hayes albums in my life? Surely one is enough.
(Laughs) Well imagine being that artist! I agree with you. I don't agree that it's the best thing I've done, I think that this record and 'The Tension And The Spark' are the best things I've done, and maybe the first Savage Garden album. So I would pick three records so far… They're three very different records. Someone told me this once, you can apply it to Madonna. So: 'Holiday' is brilliant and she's never made another 'Holiday' and the argument for that is that she's already made it. As an artist it's a very strange position to be in because I under­stand how important 'The Tension And The Spark' is in my career and how I can look back and see it for what it was but I've never tried to do it again because I've done it. I think for me, I have to continue to make records that make me feel like they're sincere and that's sort of what I'm doing. Sometimes you'll love it and sometimes you won't but as the artist sitting in this seat, that's at least the criteria that I have, which is that I have to feel like it's exactly what I want to do in my life and I'm happy now. Someone told me actually that you'd tweeted to say it was good, a year after the fact, and my reaction to you is: 'DUH!' In some ways I feel, I don't know, I'm quite detached from buzz or the industry, very much so. I see how it can seem hard for me to be relevant. I fall within the cracks a lot of the time. Sometimes I'm on point and sometimes way off point. I can appre­ci­ate that.

It's inter­est­ing that you brought 'buzz' up there and you also brought 'relevant' up there, too. Because I didn't bring up the word 'relevant' so it must be something that's on your mind…
Yes, but it's all about buzz and relevance! Apparently.

You mentioned buzz and it does feel as if, when an album comes out – and you will have noticed this altering what with your career spanning a huge change in the industry – the feeling that promotion is doing its job can be quite hard to quantify. There's a lot of clatter that comes with a release, there's a lot of noise, and sometimes you just think 'I can't be bothered with this, I'm just going to leave other people to deal with whether this is good or bad or cool or uncool or suc­cess­ful or unsuc­cess­ful, I'll deal with this in my own time'. The point being that too much buzz can make something seem boring.
I can tell you my sort of approach with this record and my secret about it, and it goes back to my 'DUH!' reaction to you, which is this: I'm a pop fan and I sort of pay attention to what's happening but the older I get and the more secure I feel, the less I pay attention to that buzz because it just fades so quickly. You can pick a Kylie record or a Kelis record that had so much buzz about it and everyone will just be talking about how brilliant it is but it's very fickle and maybe a month later no one's talking about that record. From my point of view, I've never been someone that anyone's buzzed about. Ever.

You've never been fashionable.
(Laughs) No. I think I'd be quite sus­pi­cious if I was. The thing with this album for me was that I know it was a really solid record with my name on it and a very appro­pri­ate record for the time I've spent doing this record. If anything, it will be a record that people start to realise was good a year after the fact. That's kind of my hope for it, that in hindsight we'll look back and it will have sold a few copies and done okay.

In the grand scheme of things it's better to have an album that people enjoy between two to twenty years after it's released, than one that's listened to for twelve months after it's been released then never played again.
Yeah, for sure.

What would you call your fans?
My fans?

Yes, like Jessie J's got her heart­beats or whatever.
My favourite way of referring to an audience is the way Britney Spears refers to her audience when her people write her blogs and they say things like 'Dear fans'. It's just so brilliant. It's so royal. It's one step away from 'ATTENTION FANS!'.

You mentioned earlier not being Jessie J or Rihanna. This is fact. You are neither of those artists. But if you had to be one of them which would you be and why?
Oh Rihanna, come on.

Why?
I'm much more of a Rihanna. I'm much more of a Britney than a Christina, I'm more of a Rihanna than a Jessie J. No offence to either. With Rihanna, first of all, 'We Found Love', okay, that's one of the prettiest pop melodies every sung, ever. It's incred­ible. It's like 'Like A Prayer' for today. I'm still obsessed with it. There was a moment there where I wasn't sure if America was going to get it. I thought Calvin Harris, we love him, but he's a bit moody in public and I love that about him and I'm just so thrilled that he's had this fuck-off amazing twelve-week US massive Number One hit with that song and sometimes I still can't believe that that song is played on the radio and that excites me. I use that song sometimes as a reason to argue with my managers and radio pluggers when I won't edit a section out of a song of mine, I'm like [very animated] 'there's a fucking ridicu­lous breakdown in the middle of that song that's currently being played in America non-stop'. For that reason alone I love Rihanna.

It's inter­est­ing that an act like Rihanna can force a radio station to play something odd, just by sheer force of her hugeness.
As an artist you're con­stantly faced with that boring response, which is 'everyone's afraid of something different', which sounds ironic for someone like me to say this, but believe me, if I'm exper­i­en­cing it then imagine how poor Jessie J feels. The reality is that the radio pro­gram­mer, or an editor or a record label or anybody, when you make a record, there are very few people that know what a hit record is. Some of them still exist in record labels, but there are not a lot at radio stations, not a lot at magazines and that's why when a pioneer comes along they'll celebrate them because it takes a lot of bravery to say 'no, I'm going to program this song' and, you're right, if they play that everyday it'll become passé and that breakdown in the middle of 'We Found Love' is just what music sounds like today. That's amazing. I have a friend who co-wrote that Lana Del Rey song 'Video Games' and he's a song­writer and his name is Justin Parker and he's incred­ible. He's just the most beautiful, poetic song­writer and he's signed to the same pub­lish­ing company that I'm signed to and when I first met him he said that writing with me was one of the best things that had happened to him for years and I remember thinking 'I'm so not worthy', and he had that song and he played me that song and the demo and the video a year ago I think. I've probably still got the email where I wrote back to him and said 'that the song's incredible'.

One thing I did want to talk to you about was the way you went back to a major label, probably on different terms but still, your previous album was self-released and you were very proud of that, but you're signed to Mercury now. So I'm wondering why you felt this album was more major label friendly. Why did you go back? They do say never go back…
I still feel inde­pend­ent because let's face it, when you talked about the nebulous view of buzz and so on, well I'm kind of part of that world. I'm signed to Mercury in Australia, but here the record is licensed through EMI Music Services [who do dis­tri­bu­tion and that sort of thing to people who aren't neces­sar­ily signed to EMI], so, there's this veneer and this safety of feeling that I'm on a major label, but at the end of the day I still paid for the record, I still created and really con­trolled the record.

[There's a bit here which made sense when Darren was saying it, but listening back to tran­scribe the interview didn't make as much sense. The general upshot of what he says, we think, is that while still being in control of what was happening, he ended up working with people like Steve Robson and Walter Afanasieff whose opinions he trusts in a way he wouldn't normally trust an outside voice. We think that's what he meant.]

So I let them tell me I'm rubbish.

How do you respond to people telling you you're rubbish?
I think I'm pretty good at it. I think the problem is that because I'm so enthu­si­astic, my Daniel Bedingfield factor can turn up to 10. Have you ever met Daniel Bedingfield?

Yes..
He's lovely, but he's the most enthu­si­astic person I've ever met in my life. I have a real soft spot for him — I met him and at first I was scared until I realised that was just his personality.

Have you heard the story that appar­ently he had in a very large bedroom in his house with a toilet plumbed into the centre of the room so he never had very far to walk at night?
Oh, that's hilarious bullshit!

It might well be bullshit yes.
Can we make up something like that about me? No don't. No one would care anyway because I'm not relevant. But, erm, the point is that when I'm in the studio, because I'm enthu­si­astic, I tend to get my own way and we all know that things can start going terribly wrong when popstars always get their own way. This has been the first record in a long time where I under­stood that I needed to be edited. I'm a huge fan of song­writers and the process of making records and all that stuff so I can look at other people's records and think, 'God, you needed someone to edit you or give some con­struct­ive feedback'. But I think when you've had the inde­pend­ence that I've had and you've got the money to do it you can kind of make won­der­fully strange records that need editing. The idea with this record was to trim off that fat. So, it made sense and to answer your earlier question bluntly it was abso­lutely fucking ter­ri­fy­ing being inde­pend­ent because it cost so much money. Yes, I got all my freedom and it was fantastic, but I had abso­lutely no idea what it was like to receive the report back from radio where 15 people have said 'I hate this cunt' in their feedback. You'd read that and think, 'that's why they're not playing this song — because they hate me'.

And pre­sum­ably pre­vi­ously there'd been a someone at the label who was cush­ion­ing that blow, or keeping the reality of what was said away from you. So instead of hearing 'I hate this cunt', you would have ended up hearing 'we're not sure it's quite right for our audience'?
Exactly, or 'it's a difficult record for them'. I had to see a lot of that stuff. You kind of have to be careful what you wish for. I got all of that control and in so many ways it was fantastic: I got to make a double album when that was a ridicu­lous thing to do and I got to go on tour with a show that bled money and it was abso­lutely fantastic and I don't regret a single thing, but it was really eye opening. Look, I'm not obscure. That's the strange thing, I'm not an obscure artist. I make music for the main­stream and so it needs a main­stream platform, so that was the idea of getting back in bed with a major, it was sort of like, 'I'd like more people to hear my music please, thanks'.

Right. And how did that go? Has it been a success? It's hard to tell.
I think it's going well. Let's be brutally honest here, I haven't had airplay on com­mer­cial radio for about ten years, and now I've just got my third Radio 2 song [in a row]. That kind of thing is a big deal if you haven't had airplay in a long time. Is it Rihanna? No, of course not, but then I'm not 23. It's doing better than any album I've released in a long time. It's a very strange time to be a musician and I think I'm lucky to have had success in the past and to have made money in the past. Now I make my records and I put them out and hope that they have as much impact as a record by me can have.

Is there a ceiling on that? It sounds like you're sort of admitting that a record by you can only have a certain amount of impact. But I wonder if you came out with a heartfelt, easy-to-listen-to ballad about standing on mountains, whether someone at Heart would go 'yes, this is what we've been waiting for for ten years, we will hammer this' and you could have a hit?
No, I don't think the success of my music or my career is capped. Why would I continue to do this? I think at the end of the day every artist hopes for another Number One single and I'd love to play at the O2 Arena. But I have to be realistic about the fact that I've been doing it for 20 years. Pop music is youth obsessed, pop radio is youth obsessed. I'm never going to be played on Radio 1 no matter how great the song is. I think you and I know enough about radio in this country to know that it's pretty hard to have a hit single if you're not being played on Radio 1, yeah?

Well usually.
I'm never going to be played on Radio 1 or Capital. I occa­sion­ally listen to the station but I don't buy the music they play on Capital. If you think about it, the peak of my com­mer­cial success in my career was when I was 24. It's not that I don't under­stand it and it's not that I don't think it's fair… I kind of think it is kind of fair, because you have your shot and that's that. I think it would be really sad to not under­stand that. But at the same time, I'm open to the fact that one of my songs could be in a butter com­mer­cial or it could end up in some film or collide with some incred­ible pop culture moment and become a phe­nomenon. Anyway I'm proud of my record, I love it.

Well, it's a good album.
Thank you.

Is there anything else you'd like to add to this interview?
It's been more inter­est­ing than I thought it would be and probably less than you'd hoped.


*

Darren Hayes' official site is here. 'Bloodstained Heart' is out as a single right now and here it is on iTunes.