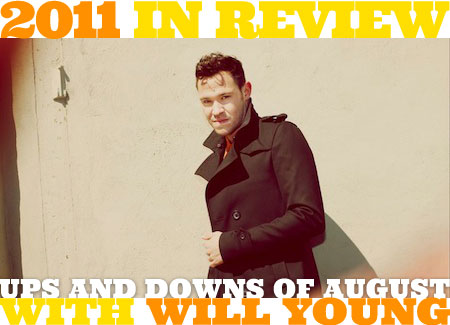 Will Young released his best-ever album in August this year. But that was not the month's only world-shaking event, as this chat will examine.
The London riots happened.
How did they make you feel?
Frightened.
Leona Lewis called the people involved "hoodrats". Do you think demon­ising them helps or hinders the situation?
No, no. I wrote an article about it. I'm very intel­li­gent you see and I wrote an article.
Was it one of your 'Question Time' moments?
Yes, where I stutter and use words like 'Dickensian'.
The "pos­it­ively Dickensian" moment was amazing.
Sometimes I use words I don't under­stand and it just stops people. But no, going back to your original question, it's not good because it tars everyone with the same brush and we all get a bit Daily Mail about it. 'Burn 'em, burn 'em all' and so on.
It was inter­est­ing to see, for example on Twitter where one's timeline is usually quite liberal and anti-Daily Mail in sentiment or whatever, that for about 24 or 48 hours a sur­pris­ing number of people did get quite 'put them on an island and shoot them' about it. And it was inter­est­ing to see how people behave when something starts to impact on their own lives.
That's so true actually. It's a sad state of affairs but it's so true. Does lib­er­al­ism go hand in hand with the bour­geoisie? Everyone did go a bit Daily Mail. I do stuff with Catch 22 and we do loads of stuff with kids all over the country and they're amazing. They just need to be guided. No wonder they're so messed up when you have a system that takes away any form of relating to each other and you have tele­vi­sion that basically tells you, 'become famous, it will make you happy'. And it doesn't.
If people went looting in HMV would you be more offended if they did or didn't loot your album?
(Laughs) I'd be more offended if they didn't. I'd be well pissed off.
BBC Magazines sold the Radio Times to a different publisher for £12 million.
Who's in charge of the Christmas edition of the Radio Times in your household?
Oh. Do people still have Radio Times now we're in the era of the internet?
It's still a big seller.
Well then it would be my Mum, I think. For a family Christmas. In my own house it's just me, so it would be me! Me or the dog. Or maybe the dog would take over.
Will you be tra­gic­ally alone this Christmas, or will you be with family?
(Laughs) I'd probably like to be alone. You know what I mean? I will be with family and then I will be in London sort of on my own and with any friends that are around. Because I think that London is a great place in that period between Christmas Eve and New Year's Eve. I find myself going to places that I wouldn't go to normally and really enjoying it. Like, I will go to Fortnum & Mason.…
And you're not going to occupy it are you, you're just going to have a nice shop there?
I just sort of like wandering around there. I love wandering around town, being in town in that period. Because I think you get to properly see the archi­tec­ture, do you know what I mean? Which you don't really notice in London, par­tic­u­larly in the middle of town when it's really busy and there are loads of tourists.
Also in August, Paul Daniels was hit in the face with a pizza thrown by the puppet Sooty.
Have you ever had something thrown at your face by a puppet?
Er… No. I had to think about that. I'd like to bring back SM:TV, where popstars used to get slimed. I think it would be good for our egos.
The thing is, SM:TV always seemed to be done in the right spirit it didn't feel like it was about just laughing at the people who were on it. A lot of the TV hosts now would be like 'what shall we get The Saturdays to do, what a bunch of idiots they are'. Whereas Ant & Dec didn't – and still don't — talk down to their audience.
I'd never thought about that, but you're right, that kind of TV was very grown-up but they did respect their audience. It's very different now, where it's much more 'let's catch the popstar out'.
Just to clarify everything on the puppet front, you have not inter­ac­ted with a puppet?
I've never been struck in the face by a puppet.
Did you see on The X Factor, Olly Murs – the pretender to your hat-wearing popstar crown – per­form­ing with the Muppets?
Yes I did.
Did you enjoy it?
I love the Muppets and I've always enjoyed per­form­ances with them.
Katy Perry's 'Firework' video won Video of the Year at the MTV Video Music Awards.

Do you think a video in which some fireworks shoot out of a lady's knockers is deserving of that award?
(Laughs) No.
Even if the under­ly­ing message is one of empower­ment via mammary explosion?
(Laughs) As a feminist myself, I don't really see that empowerment.
As a notorious homo­sexual, did you feel empowered by 'Born This Way' by Lady Gaga?
Basically when it came on the radio I thought 'she's basically written this song for me'. Amazing. I actually think I shed a tear as I was driving up to Wales. I stopped at a petrol station and I thought 'you know what, I don't care what they think' and I brought some pink bon bons. Normally I would just go for a Wispa.
Do you think an artist needs to be gay to write an anthem for the gays?
No, probably not I think. You need to be a little bit vul­ner­able I think.
Do you think there needs to be a gay anthem that says 'being gay is fine obviously but some gay people are really annoying'?
(Laughs) I would write that anthem. Well a lot of it is that I know I don't like a lot of things about myself so I'm going to project it onto other people. That's what it would be called. The b‑side would just be called 'Gay'.
Also in August a team of British geo­lo­gists in Australia claimed to have dis­covered the world's oldest fossils, thought to be 3.4 billion years old.
What do you think people in billions of years could learn from your skeleton if they found it in the ground?
Well, one of my fingers is broken at the top – this is manly — from a rugby match. It's my little finger on the left hand. One of my feet is bigger than the other by half a size. And I've got a wonky jaw. I've got an under-bite or over-bite, which makes me look a bit neander­thal. They'd probably just think they'd found a neanderthal.
That would be really confusing because they'd find a trilby and a cape or whatever you were wearing at the time of your death and think 'this is pre­his­toric man, but he seems to be wearing the clothes of a modern man'.
So actually, it could be quite a find.
It could set geology billions of years from now back by billions of years because they'd be wondering why there were all these different eras in one person.
It could.
The 68th Venice International Film Festival started, in Venice.
What's your favourite Sylvester Stallone film?
Something about mama on a train.
Mama on a train?
Doesn't he do something with his mum…
Stop Or My Mom Will Shoot?
Is it that one? I like the Rambo scene where he's clearly in a rela­tion­ship with what­shis­name as they're running down the beach in slow motion.
Maybe that could be your next video?
(Laughs) I tried that with 'Switch It On' but it didn't really work did it? I was basically a second rate Robbie Williams. I want to do Care Bears The Movie for my next video. In 3D.

Will Young released the Richard X‑produced triumph 'Echoes' in August.
Were you annoyed that everyone seemed so surprised it was good?
No. I'm used to it now. I'm used to people going 'actually I quite like you' and me thinking 'actually fuck off'. It's better to be under-estimated than over-estimated.
Was there a point where people went from over-estim­at­ing you to under-estim­at­ing you? Did you notice a shift?
Maybe between third and fourth album. That's the way it works. The key is to make good music. Just you wait until the hard rock album comes out.
The flashback bit in your 'Come On' video was one of the year's best pop video moments.
It's so bizarre that moment. The worst thing about it is that I said to the director 'you can't have this bit in the middle where it goes back to me young, it just doesn't work'. Everyone shouted me down.
AC/DC, the unlisten­able rock band, launched their own wine in August this year.
Is there an alcohol-based drink you would add your name to?
Erm, snakebite and black.
Was that your drink of choice during your politics degree days?
Yeah, until they banned it. Did it get banned from every uni­ver­sity? I don't know. I know it got banned at ours.
Where were you at uni­ver­sity? Somewhere half-posh, wasn't it?
It was half-posh, it was Exeter.
How did you get around snakebite and black being banned?
Oh, we moved onto quadruple vodkas and Hooch. (Cackling laugh) Or turbo shandies, which was half a lager — oh hang on, what was it? — half a lager and a shot of vodka.
You need to be careful where you ask for a turbo shandy or you might get a surprise.
We used to go on all-dayers. We used to call them Princess Leias, all-dayers.
When would you start?
Midday. I can't think why people don't like students.
We've been keeping track of your hangovers via Twitter, and it seems like you spend a lot of your time on benders.
'Tis the season to be jolly.
You've been jolly all year!
It's all or nothing. Because I've been on tour, it's three days of being good, then I get a day off. So you know, I get over­ex­cited, and it goes around in that sort of cycle. I'm not hungover today though.
One of your best Twitter escapades this year was when you were quite excited at about 4pm because you were off down to Mulberry for a meeting. And then you were quiet for about twelve hours, until you posted another tweet: 'got drunk, had a kebab'. It went from 'stylish aspir­a­tional Will Young', 'to student-in-a-gutter Will Young' in two tweets.
(Laughs) That's the dichotomy of my life basically! The desire to be far more elegant and stylish than I actually am.


*


JANUARY with Little Boots: CLICK HERE


FEBRUARY with Eric Saade: CLICK HERE


MARCH with Mark Feehily: CLICK HERE


APRIL with Cher Lloyd: CLICK HERE


MAY with CocknBullKid: CLICK HERE


JUNE with Jordan Rizzlekick: CLICK HERE


JULY with Marvin Humes: CLICK HERE


AUGUST with Will Young: CLICK HERE


SEPTEMBER with Yasmin: CLICK HERE


OCTOBER with Joe McElderry: CLICK HERE


NOVEMBER with Patrick Wolf: CLICK HERE


DECEMBER with Aino Icona Pop: CLICK HERE