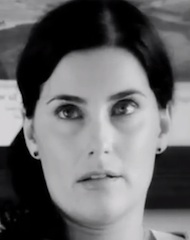 'Bajo Otra Luz' hitmaker Nelly Furtado has started releasing authentic black and white 'teaser' videos in pre­par­a­tion for her new album 'T.S.I', which is due out next year. (Rap-Up) Rodney 'Darkchild' Jerkins and Salaam Remi are both working on it, which might lead to more exciting results than this video suggests.

Superficially apo­lo­getic party rockers LMFAO have knocked Rihanna's 'We Found Love' off the top of the Hot 100 with their wiggle-anthem 'Sexy And I Know It'. (Billboard)

Some members of One Direction have been making New Year's res­ol­u­tions. Zayn wants to stop smoking like a chimney, while Niall would like to go the gym more and learn how to drive. (The Sun)

This is 'allegedly' a leaked track­list­ing for Madonna's new album, which 'appar­ently' is going to be called 'Luv'. (Ace Showbiz)

Cancel all your New Year's Eve plans: here are some photos of Alan Carr dressed up as Cher Lloyd and 'fighting' her in a 'skit' to be shown on his New Year Specstacular show this Saturday night. (Daily Mail) Hilarious stuff.

Taylor Swift would like to do things dif­fer­ently next year and "make col­lab­or­a­tions which aren't exactly expected". (Huffington Post) Which basically means she really wants to do a song with Nicki Minaj.

In this 'exclusive' interview, Robbie Williams says he wants to be "the best in the world" again and that 2012 "will be the best year of my life so far, everything is double double cool". (Daily Mirror) He also talks about wanting to 'bed' (make love to) Lulu and Carol Vorderman if that's more your 'thing'.

This is where buffing takes over: Rochelle from The Saturdays likes getting a manicure done at least once a week. (Contactmusic)

And finally, Rihanna has promised fans that the first thing she's going to do in 2012 is to sort out a version of 'Birthday Cake' that is going to be more than 79 seconds long. (Twitter) Thanks Rihanna.
THAT WAS some of THE NEWS.