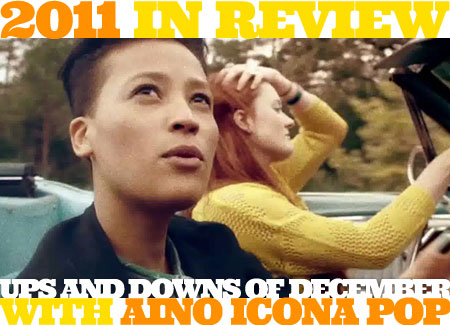 Aino is one-half of literally amazing Swedish pop duo Icona Pop and for that reason alone we asked her for her thoughts on December.
A Coca-Cola Santa Claus told 4‑year old Brooke Rarity that she was on the Naughty List prompting com­plaints to the company.
Which list are you on?
I think def­in­itely on the naughty list. I've done a lot of stupid things and also always tried to fool the system to get everything my way.
Are you talking about a run in with the Police?
No, def­in­itely not. It hasn't got to that stage yet.
Also this month Elizabeth Taylor's personal belong­ings were sold at auction for £74 million. This included a signed Michael Jackson print.
Have you ever asked anyone for their autograph?
Oh yeah, but I think I was smaller. It was Dr Albarn [of It's My Life 'fame'].
Was he nice?
He was very very nice, that's the one thing I remember. It was very funny.
Has anyone ever asked for your autograph?
Yeah and it's a very strange feeling. But you get kind of nervous because you want the signature to be perfect.
Do you leave a little message?
No. I think it's almost too embar­rass­ing to do that.
Google announced in its 2012 Zeitgeist report that 13-year old singing sensation Rebecca Black was the internet's most-searched person.
What will you be doing on Friday?
I'll actually be doing the same thing as Rebecca Black, just hanging out with my friends.
In December the Twitter hashtag #three­word­stoliveby was announced as the third most used of the year.
What are your #three­word­stoliveby?
Erm, 'don't think just act'.
That's four.
Oh no.
You could have 'don't think, act'?
Yes!
Earlier this month two giant pandas arrived in Scotland from China on a 10-year mating programme at Edinburgh Zoo.
Do you find Scotland romantic?
Yes, in my dreams. I've never been but I'm thinking it's a bit like Harry Potter.
Some of it might be like that but not all of it.
I'd like to have a pint there.
They're quite big on alcohol.
(Laughs) Why am I always talking about alcohol?
On December 12 Sir David Attenborough defended accus­a­tions that part of his Frozen Planet doc­u­ment­ary were faked.
Have you ever faked it?
I have. Sometimes you have to fake your happiness to really make your day better. You have to just keep on smiling and get through the bad stuff and then your life gets so much easier. Fake it 'til you make it.
That's a very nice sentiment and one that seems to be true of a lot of Swedish people we've met. What do you make of the British outlook?
I love it. I just want to come back. You kind of get addicted to the noise and everything. Also, when you meet people on the street they sometimes say 'hello love, how are you?'. The first time I was like 'oh my God, he called me love' because we don't usually do that in Sweden.
Father Christmas.
Jolly icon of seasonal jubil­a­tion or trau­mat­ising lie we tell our children?
I remember when I believed in Santa Claus it was amazing but when I found out I was com­pletely depressed for days.
How did you find out he wasn't [SPOILER ALERT] real?
You can hire Santa Claus to come to your place and then when we were walking home I saw that there were lots of Santas every­where and that was the time I started to under­stand and thought 'there's something really strange about this'.
The Nerf Vortex Nitron Blaster is said to be 2012's most popular Christmas toy for boys.
Who would you like to blast into a vortex?
Bruno Mars maybe. I don't under­stand why… Yeah, Bruno Mars.
"I am very proud at the way everyone rallied around" said Jasmine Hazelhurst after she sparked a 12-hour rescue mission involving the fire brigade for what turned out to be toy cat.
Are you more of a cat or a dog person?
Definitely a dog person. I had a really ugly pug, he looked like Jabba the Hutt, and he was my best friend. They always want to be near you so once I woke up and he was sleeping on my head. (Laughs)
We don't really trust cats.
Me neither! We had two cats and a dog once and the cats just had this look of 'when you're asleep, I'm going to kill you'.
*


JANUARY with Little Boots: CLICK HERE


FEBRUARY with Eric Saade: CLICK HERE


MARCH with Mark Feehily: CLICK HERE


APRIL with Cher Lloyd: CLICK HERE


MAY with CocknBullKid: CLICK HERE


JUNE with Jordan Rizzlekick: CLICK HERE


JULY with Marvin Humes: CLICK HERE


AUGUST with Will Young: CLICK HERE


SEPTEMBER with Yasmin: CLICK HERE


OCTOBER with Joe McElderry: CLICK HERE


NOVEMBER with Patrick Wolf: CLICK HERE


DECEMBER with Aino Icona Pop: CLICK HERE