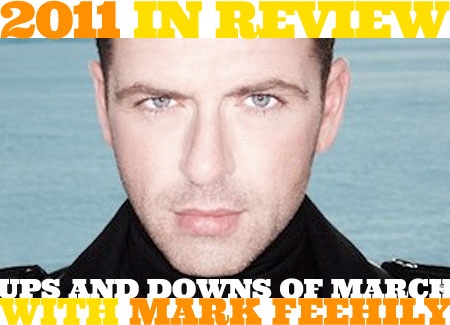 Westlife had an exciting 2011, what with splitting up in October and everything, but for our review of 2011 it was the month of March we ran past Mark Feehily.
In March, Elizabeth Taylor sadly died.
How upset were you about this news, out of ten?
Really, I'd say about a four. I wasn't very aware of Elizabeth Taylor.
Aren't you supposed to be a homosexual?
It's funny, we were on the Graham Norton Show a few years ago, just after I'd come out, and he handed me a Barbra Streisand CD, just because he assumed I loved her music. And I was a bit offended because I was like, 'don't fucking just assume I like Barbra Streisand'. I suppose I missed that whole era because Irish radio didn't play Barbra Streisand.
Also in March, Barack Obama paid a visit to Rio de Janeiro.
Do you like a Brazilian, or a full bush?
I think I'd prefer the Brazilian per­son­ally. Or someone in between.
What's the name for that?
Groomed.
The Moon reached its closest point to Earth in almost 20 years.
Do you think humans will one day live on the Moon?
No.
Would you like to live there?
I'd like to go there, I don't think I'd like to live there. It's a bit like…
Center Parcs?
Well any holiday des­tin­a­tion really.
Surely the main problem with building a house on the Moon is that with it changing shape during the course of a month, from being round to being a sort of crescent shape, and then back again, it would be difficult to build solid found­a­tions because of the ground shifting all the time. Surely you'd fall off.
I'd base my visit on what they say on Trip Advisor.
The Journal Of Cosmology reported that extra-ter­restrial life may exist.
Do you think we're alone?
I actually don't. If you think about the com­plex­ity of the Universe, there must be something out there. When you think about how simple we are, there MUST be something more intel­li­gent than us.
Who do you think is the most simple person on Planet Earth?
Definitely not Louis Walsh. Let me think. My friend Bob.
You're off to a bad start if you're called Bob.
I mean his name is Robert but Bob suits him more.
85 people were rescued from a floating res­taur­ant following the Ohio flood.
If you were cast away forever in a floating res­taur­ant, what would be your cuisine of choice?
Hm… It would have to be Japanese. I can kind of eat that whenever.
You know that Japanese res­taur­ant on Kings Road in London?
Benihaha?
That's the one.
When you walk in, there are about 400 photos of you and the rest of your band posing with the manager at various different stages of your career.
I know!
(Laughs) Every time I go in there I see how many pictures of us there are. There used to be a lot more!
A sign of the times, Mark.
I remember there was one of Bryan and Kerry before they split up, and then after they split up they took it down.
So sad.
Maybe Bryan went in there. Maybe Kerry did.
Tear gas was used to control a riot by asylum seekers at the Christmas Island Immigration Centre.
When was the last time you cried?
I haven't cried in a long time actually.
Did you not cry when Westlife announced their split?
No.
Mel Gibson — famous for playing kilted 'hero' William Wallace in Braveheart — was taken to court over domestic violence.

Do you agree or disagree with this statement: real men don't wear skirts.
I think a real man could wear a skirt. But I don't think you have to wear a skirt to be a real man.
Have you ever work a kilt-slash-skirt?
Yes.
Was it a special Feehily tartan?
Well Ireland as a country has its own tartan and it was that.
Phil 'Cadbury's advert drum music' Collins announced his retire­ment from music due to health concerns.
Would you allow your own music to be used in an advert?
Recently we got in a lot of trouble in Ireland because a cigarette company had sponsored a gig of ours in Asia.
Did you think nobody would find out?
We didn't know, but basically we landed in Indonesia and found out that day that the press in Ireland was going mad about it. ANYWAY before that incident I would have said, 'whoever wants a Westlife song can have it', because we don't get asked very often, but after that exper­i­ence I'll say 'not any product, just most of them'.
Also in March, Westlife split with Syco.
How will people look back on this event, thirty years from now?Some people would view what's happened since we left Syco as a result of having left Syco but that's not the case. I'll always know in my heart and soul it was the right decision to leave Syco, because I couldn't take another minute of it. Sometimes you just have to make a decision and you don't know what the outcome will be, and it doesn't matter what the outcome will be — you have to make the decision anyway.
*


JANUARY with Little Boots: CLICK HERE


FEBRUARY with Eric Saade: CLICK HERE


MARCH with Mark Feehily: CLICK HERE


APRIL with Cher Lloyd: CLICK HERE


MAY with CocknBullKid: CLICK HERE


JUNE with Jordan Rizzlekick: CLICK HERE


JULY with Marvin Humes: CLICK HERE


AUGUST with Will Young: CLICK HERE


SEPTEMBER with Yasmin: CLICK HERE


OCTOBER with Joe McElderry: CLICK HERE


NOVEMBER with Patrick Wolf: CLICK HERE


DECEMBER with Aino Icona Pop: CLICK HERE