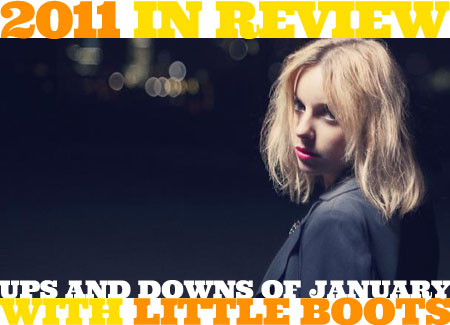 Little Boots staged a miniature comeback — ahead of a proper one next year — with a quite good song called 'Shake', in November 2011. But for our review of the year, we've asked her to consider the events of January this year.
In January, 10-year-old Canadian girl became the youngest person ever to discover a supernova.
Popjustice: What's your favourite constellation?
Victoria: What's my favourite con­stel­la­tion? Hmm, that's quite a good question. I can't really remember that many.
Well there's the one that looks like a saucepan.
I like when you go to the other side of the world and they're all upside down. That's good. I don't know, there's one like a bow and arrow, or something, isn't there?
That one's good.
The Plough is the famous one, isn't it? I mean, I'm just a fan of con­stel­la­tions in general to be honest.

Teachers and cultural figures got in a bit of a 'two and eight' over the Government's pans to abolish a scheme to help teach the arts in schools.
What were your music lessons like at your school?
Pretty amazing. Some of my music teachers were the best people ever. And obviously it's bad if they're cutting arts. When I do charity stuff it's usually to do with this charity called Youth Music, which funds and organises young people getting into music who might not have had the oppor­tun­it­ies to get that kind of thing. I was really lucky that I had great music teachers and I had parents who sent me to music lessons. I think it's super important. My music teachers had such a huge impact on me. I used to hang out in the music depart­ment all the time, every break, I'd never have any friends. (Laughs). No that's not true, I did have friends. But I often chose to spend my break time in the music room.
Were you on the piano?
Yes, and singing.
What about the recorder?
Oh yeah, I could do the recorder. I used to orches­trate quite a lot of things. I used to like making and writing harmonies for everybody and getting them to do them. Yeah I know, I was a strange child. But it really was good.
HMV announced the closure of 60 stores following poor Christmas sales.
Do you think there will be record shops in five years time?
Hm… Maybe very niche ones.

Do you think HMV can survive?
I hope so. You'd like to think there could be at least one. You've got Waterstones, so maybe they'll be the kind of Waterstones of the music world. I think there needs to be one place. But every time I go past they just seem to sell video games. The music's kind of hidden in the back somewhere in a corner.
If you walk into one it does look like it just sells DVDs and iPod docks.
Yeah, exactly. But I do think maybe inde­pend­ent record shops in a way — even though it's still super tough for them — maybe they've got the advantage in that the music they tend to sell is something more spe­cial­ist and more personal. I went to this indie label market in the summer and it was really busy and really 'vibey' and just really great, and it makes you realise that people do care about it. Maybe only a small amount of people but, you know, people do care about that stuff.
Wikipedia cel­eb­rated its tenth anniversary in January.
Do you read or check your page for factual errors?
I have done in the past because in every interview I've been asked about my Captain Beefheart influence! Like, what? And then I looked on Wikipedia, it's like 'yeah, she's really influ­enced by Britney Spears, The Human League and Captain Beefheart'.
Oh dear.
I think I said that I'd once listened to them when I was a teenager or something, and it turned into being one of my main reference points! But Wikipeadians, as they call them­selves, the people who kind of get involved in it, are very… What's the word? You can't just go and edit your Wikipedia. It's com­plic­ated. But that's what's kind of amazing about it, is that record labels can't just put a lock down on them and go 'right, this is the Wikipedia' and lock it. It's an open sort of project, so it's kind of amazing, but it's kind of terrifying.
A Canadian woman became the first person in the world to graduate with a Masters degree in The Beatles.
Which popstar would you study if you could?
Oh, that's a good one! Who'd be good to study? I'd have someone with quite a long career. I mean I guess Madonna would be quite good.
There are courses in Madonna already.
I did some Madonna at Uni actually. I remember in my textbook there were chapters on Madonna and I was like 'I want to do the Madonna chapter!' and we always had do the like, Kant's Aesthetics instead, it was a bit depressing.
Britney would be quite interesting.
Britney would be fucking good actually. Yeah I'll take Britney, that'd be pretty good.
You could bring in Christina for a chapter or two.
Oh my God, she's being amazing at the minute as well, have you watched The Voice? Oh my God. Wow.
What do you think of the lineup for UK version of The Voice?
Honestly? I was dis­ap­poin­ted. What happened to Will Young? That would have been genius.
Apparently he was going to do it and then they told him that they wanted to move in a more rock direction. And so they got the guy from The Script.
The Script?
Yes.
What? That's literally insane. So who is it? Jessie J, Script dude, Tom Jones, and?
will.i.am.
will.i.am!? Oh my God. Disappointing. It should have been Will Young.
Birds in Romania died after binge drinking on grapes left over from wine-making.
When was the last time you got so drunk you felt like you might die?
Probably at the 'Shake' party the other Saturday. It was an absolute rave. I didn't go to bed until about 10am the next day. It was amazing, we had an inflat­able disco dome. It was like an igloo of disco inside this warehouse. Everything was gold. We had these amazing drag queens painting gold on people's faces, gold letters, gold stuff every­where, I kept throwing glitter at people, which was probably quite annoying. It was just a brilliant night, the whole thing just felt amazing. But yeah, I kind of just wanted to die the next day.
How did you recover from it?
I actually recovered by going to the studio with Richard X. Which was probably not that pleasant for him.
Nick Clegg announced plans to woo a new crop of voters, calling them "alarm clock Britain".
How many hours' sleep do you need in order to function properly?
I think I function best with six. Because I think if you have too much sleep it's bad, it makes you sleepier. I always wake up early. Unless I've got too drunk and want to die, I generally wake up early. But I have just got so messed up on tour from being in so many time zones.

A 450-year-old Madonna and Child work sells for $16.9 billion at Sotheby's in New York.
But how do you think Madonna stays looking so young?
Erm, this is some kind of trick question, isn't it? Who bought that for $16 billion? Do you know who it was?
We got it off Wikipedia to be honest.
Oh well, it's probably not fucking true! How does Madonna stay looking so young? She goes out with 20-year old dudes, doesn't she? We met Jesus, we DJed with him.
You DJed with Jesus?
Yes. It was at some bizarre event in LA somewhere
How did that go?
It was pretty good.
Was Madonna there?
No. We were hoping she'd turn up. But she didn't.
*


JANUARY with Little Boots: CLICK HERE


FEBRUARY with Eric Saade: CLICK HERE


MARCH with Mark Feehily: CLICK HERE


APRIL with Cher Lloyd: CLICK HERE


MAY with CocknBullKid: CLICK HERE


JUNE with Jordan Rizzlekick: CLICK HERE


JULY with Marvin Humes: CLICK HERE


AUGUST with Will Young: CLICK HERE


SEPTEMBER with Yasmin: CLICK HERE


OCTOBER with Joe McElderry: CLICK HERE


NOVEMBER with Patrick Wolf: CLICK HERE


DECEMBER with Aino Icona Pop: CLICK HERE