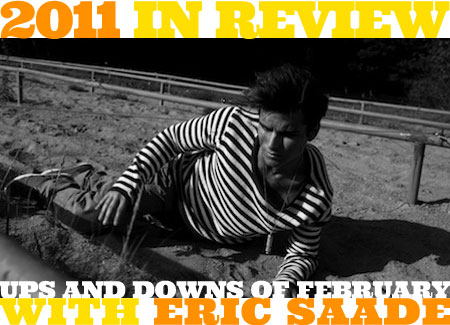 Eric Saade appeared on the planet's pop radar in May, when his epic 'Popular' rep­res­en­ted Sweden in the Eurovision Song Contest. But for our review of 2011, we've asked him to ponder the events of February.
In February, Christina Aguilera forgot the words to the National Anthem at the Superbowl.
But would you know the lyrics to the Swedish National Anthem?
Fuck.
You don't have to recite them, it's okay. Do you think it all got a bit out of hand?
It seems like they were kind of hard on her. But still, if you've got that mission and you're like 'okay, I'm gonna sing the National Anthem', you've got to know the lyrics. I mean, you've just got to read it before you go on stage. But still, I mean, they were kind of hard on her. I don't think it's a big thing but I don't know. American people are kind of hard.

Also in February, Somali pirates seized an oil super­tanker off the coast of Oman.
Like the pirates, are you worried that the Earth's supply of fossil fuels will be exhausted within 50 years? What can we do to help?
Nah, I'm not worried about that. I'm the kind of person who takes one day at a time. I'm just like, living my life. I can't go round worrying about things that can happen in fifty years. I'm like that. I worry about it, but I can't go thinking about it all the time.
Do you try and turn lights off if you're not in the room?
Of course I'll try.
Sweden's quite good for recycling stuff isn't it?
Yes, exactly.
Vietnam hosted the debut International Choir Festival.
It's great and important that this event now exists to showcase inter­na­tional choral talent, but were you in a school choir, Eric?
(Long pause) I was kind of silent at school. I was the silent boy. But still, I had a lot of friends of course. I didn't care about anything else than the music, that's my problem. I wanted to sing solo. I didn't like being in a choir, because it's just too many people that can sing actually. But it's never too late.
It's a nice thing that choirs get this recog­ni­tion isn't it?
Exactly.
At the Grammys, jazz musician Esperanza Spalding beat Justin Bieber, Florence & The Machine and Drake to win Best New Artist.
Was Justin robbed? Did he deserve to win?
(Another long pause) Yeah. Of course, he did.
Because of the impact he's had or because of the music?
I think his music deserves an award, because there are many great songs. People don't want to admit that he's good. And that's kinda wrong. He's one of the biggest artists in the world right now. He's really good. He's got flow, and he's got a really good voice and he's an okay dancer, he's getting better. I think he's really good. 'Baby' is not the best song, there are better songs than 'Baby', but I think he would deserve to win that one.
Do you think it's because he makes pop music so people don't take it seriously?
Yes, that's true. It's kind of the same thing for me because everyone's like 'ah, you're making pop, okay'. But my pop doesn't sound like Justin's pop. You just need to find the sort of pop you like and people don't under­stand that sometimes.
February news alert: Monarch butterfly colonies in Mexico more than doubled in size after bad storms reduced their numbers.
If you were a butterfly, where would you fly?
As a butterfly? (Confused laugh)
Yes.
Er, where would I fly? I like Spain. That would be nice. It's really cold here in Sweden right now.
The 2012 Summer Olympics schedule was announced.
In which sporting event would you par­ti­cip­ate, if forced to compete?
I don't know. What are the choices?
You know, every sport ever.
I love football. I've played football all my life. And Zlatan Ibrahimović is my biggest role model.
Natalie Portman won Best Actress for her role in Black Swan.

What's your dream movie role?
That's a hard one too. I love movies like Star Wars and The Matrix and stuff like that. They're like, classics.
So science fiction?
Yeah, not everything, just those two. They're like classics. The Matrix maybe. I'd love to work with wires, when you're shooting with wires.
A lot of your artwork is kind of sci-fi, with the pixels and everything.
It is. I want to describe my music in my artwork. I'm doing electro-pop, that's why everything is quite electro in the artwork.
Aretha Franklin announced her return to the stage.
What does someone have to do to gain your R‑E-S-P-E-C‑T?
What? I didn't under­stand that.
What does someone have to do to earn your respect?
(Pause) I just want people to be them­selves. I don't want people to be fake. That's what I'm always kind of looking at, stuff like that. If I meet a new person, I'm always thinking about that, like is this person real or fake?
Does it happen more now you're 'Popular'?
Yeah. I think so. That's boring, but that's the truth. So that's a big part of it if you want to get my respect.
*


JANUARY with Little Boots: CLICK HERE


FEBRUARY with Eric Saade: CLICK HERE


MARCH with Mark Feehily: CLICK HERE


APRIL with Cher Lloyd: CLICK HERE


MAY with CocknBullKid: CLICK HERE


JUNE with Jordan Rizzlekick: CLICK HERE


JULY with Marvin Humes: CLICK HERE


AUGUST with Will Young: CLICK HERE


SEPTEMBER with Yasmin: CLICK HERE


OCTOBER with Joe McElderry: CLICK HERE


NOVEMBER with Patrick Wolf: CLICK HERE


DECEMBER with Aino Icona Pop: CLICK HERE