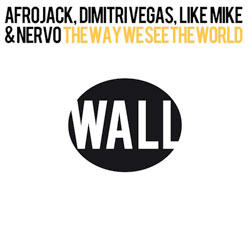 A bit of a window-rattler.
/images/stories/j/nervoafrojack.jpg

Released: Forthcoming (instru­mental out now)
Label: Wall Recordings
More info: http://www.beatmyday.com/2011/07/18/afrojack-vegas-like-mike-nervo-the-way-we-see-the-world/" target="_self">Here


'The Way We See The World'
By Afrojack, Dimitri Vegas, Like Mike & Nervo
Summer in London can be a confusing time, vis-a-vis windows.
You may open your window in the morning only to find that a warm day turns cloudy, cold and even rainy. The window must then be closed.
Equally, a gloomy morning does not always mean that your window must stay shut for the rest of the day. You may need to open it.
All of this is academic at Popjustice HQ because this song has just BLOWN THE BLOODY WINDOWS OFF.