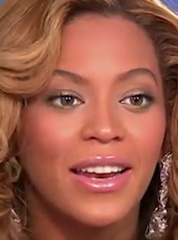 In this long, pre-recorded interview for a Brazilian New Year's show, Beyoncé reveals her plans to carry on per­form­ing next year, possibly with new music. (That Grape Juice) In case you're wondering, a 'source' announced that she is still "an enorm­ously pregnant woman". (People)

A "twangy" demo of a song called 'Bullet', performed by Katy Perry, has leaked. (Ace Showbiz) Don't panic, it's appar­ently for country singer Jessie James.

In Sugababes news Heidi Range will be in the new series of Dancing On Ice. (Daily Mirror) She'll be joined by 'Bye Bye Boy' hitmaker Jennifer Ellison, and Chesney Hawkes.

Ke$ha has 'revealed' that she met Lily Allen when they peed in the same sink together at the Brits a few years ago. (Now Magazine) Charming.

In 'you only get one shot, oh go on then have another seeing as it landed in the rough' news, boyband FORE!piece JLS have appar­ently become addicted to playing golf. (The Sun)

'Sartorial Eloquence (Don't Ya Wanna Play This Game No More?)' hitmaker Elton John wants The Actor Justin Timberlake to play him a film based on the story of his life, which is currently 'in the works'. (The Guardian) Justin is training his right eyebrow muscles as we speak.

Justin Bieber now has over 16 million followers on Twitter, but he's still a little way off over­tak­ing Lady Gaga. (Contactmusic)

It would appear Olly Murs has been enjoying listening to Lana Del Rey. (Twitter)

And finally, Cheryl Cole is allegedly following in the footsteps of Charlotte Church and best pal Lily Allen by hosting a chat show, excit­ingly-titled Late Night With Cheryl. (Daily Mail)
THAT WAS some of THE NEWS.