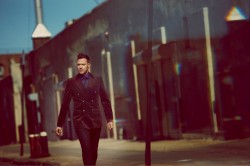 Will Young will make his West End debut in Cabaret this October, according to What's On Stage.
The star of Sky Living's Bedlam will play the Emcee in the show, which opens at the Savoy Theatre on October 3 following a four-week national tour.
Talking about the role the 'Losing Myself' hitmaker said: "I am very excited about the challenge of choosing Cabaret as my first musical theatre role."
Keen to make sure everyone knows he's a trained actor and not just some popstar charlatan, he added: "The role of the Emcee is a part I have wanted to play since before I started training at Arts Education in Chiswick when I first moved to London."
We wonder if at the casting it was between him and the singer from The Script and they told the singer from The Script he could do it and then at the last minute they called Will and got him instead? Probably not to be honest.