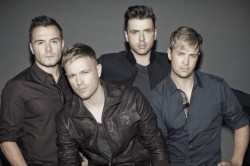 Westlife are open to estranged member Brian 'Bryan' McFadden making a Robbie Williams-style return to the band on their 28-date farewell tour next summer.
Vocalist Nicky Byrne admitted to The Daily Mail that he initially resented McFadden's departure in 2004 but added: "We have been out with him since and discussed our careers. If he was to ever do anything again with Westlife, that would be very special."
Kian Egan had similar feelings towards Brian at the time. "I thought once one member of the band leaves at that early stage, that's it. I was probably the one to have that reaction more than anybody else. I thought we were done and dusted, and I found it strange at the time why he would want to do that."
Speaking about the potential return of the 'Just The Way You Are (Drunk At The Bar)' hitmaker, Nicky said: "For different reasons it may never happen — ever. Or it might happen on the last tour. I think it would be nice, and I hope we do sing with him again one day."