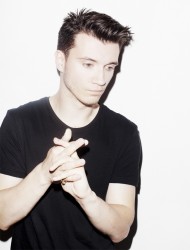 Unflappable popstar Vincent Frank has posted a new song, 'So You're Alive', online.
The track is the second from Frank's new Vincent Did It project and features plenty of squeaky synth beats and the gloomy opening line "we ain't got no King / And I can see there's black down ahead, that I can't clear".
The music video is also quite something and stars Vincent as an extra from The Tudors that has wandered into Narnia with a big bucket on his head or something.
An accom­pa­ny­ing YouTube descrip­tion reads "KING OF MY CASTLE". Tweeting the link he said "Its good to be back and not as a dickhead. I love my new video and I hope you do too."
You can watch the amazing video here.