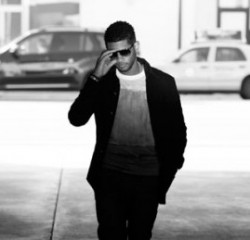 Picasso of pop Usher Raymond IV has been talking about his new col­lab­or­a­tion with David Guetta and Ludacris.
Talking (a lot) to MTV about his new album, he was asked why there wasn't another col­lab­or­a­tion with Guetta on it.
"Well, there is another crazy record, that he, I and Luda [Ludacris] worked on," Usher replied. "I can't tell you too much about it. I'll tell you as much as he has: it's incred­ible, it's crazy."
(Imagine if he'd just said 'it's pretty deriv­at­ive of the current chart sound to be honest'.)
Anyway, this new col­lab­or­a­tion features on Ludacris' forth­com­ing album 'Ludaversal', which is out in September.