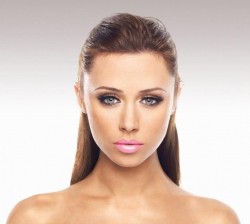 Part-time Saturday and full-time wife of a rugby player Una Healy has joined the panel for ITV's 'exciting' new sport enter­tain­ment show Let's Get Gold!.
Announcing the news on her Twitter Healy said she was "SO excited" about it all, before linking to a story on the official Saturdays website. It's here that we learn why she's so excited: one of the other people on the panel is Martine McCutcheon!
The show sounds very exciting and is in no way an easy way of cashing in on the 'sporting fever' that will 'grip a nation' during the Olympics. Basically the show offers sporting teams the chance to "transform their sport into the most enter­tain­ing routine". We have no idea what that actually means.
Healy told the press release: "I'm so excited to be part of Let's Get Gold. I'm looking forward to seeing all the sporting talent that Britain has to offer. It'll be fun to see how these teams will put an enter­tain­ment spin on sports such as Rugby and Golf. I can't wait to get started!"