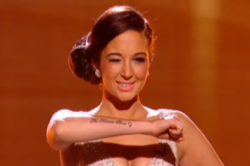 The title of 'I Swear' chart-topper Tulisa's first solo single is 'We Are Young'.
Speaking to MTV News, ex-bandmate Fazer said that the song was "a really big dance record" and that it had "a great message behind it. Forgive us for what we have done, 'cause we are young. That's it. Simple!"
We don't know about you readers but we know plenty of young people who don't spend their lives being fucking morons. Perhaps youngness isn't the problem. Who knows eh?!?